Personal finance apps occupy a special place in the staggering growth of fintech usage worldwide. Considering Generation Z's growing interest in saving and investing, which has emerged as the most savings-minded generation, developing a budget app like Mint can be a good investment. The aforementioned Mint, for example, is ranked #1 among finance apps on the App Store and is rated 4.8 stars out of 5. It has been downloaded more than 10 million times on Google Play alone. Most of Mint's services are free to customers, but the app generates massive revenue through advertising, referrals, and the sale of user data.
Want to build a personal finance app like Mint? Explore our blog post to learn some actionable insights on personal finance app development and get a comprehensive understanding of market trends and development costs.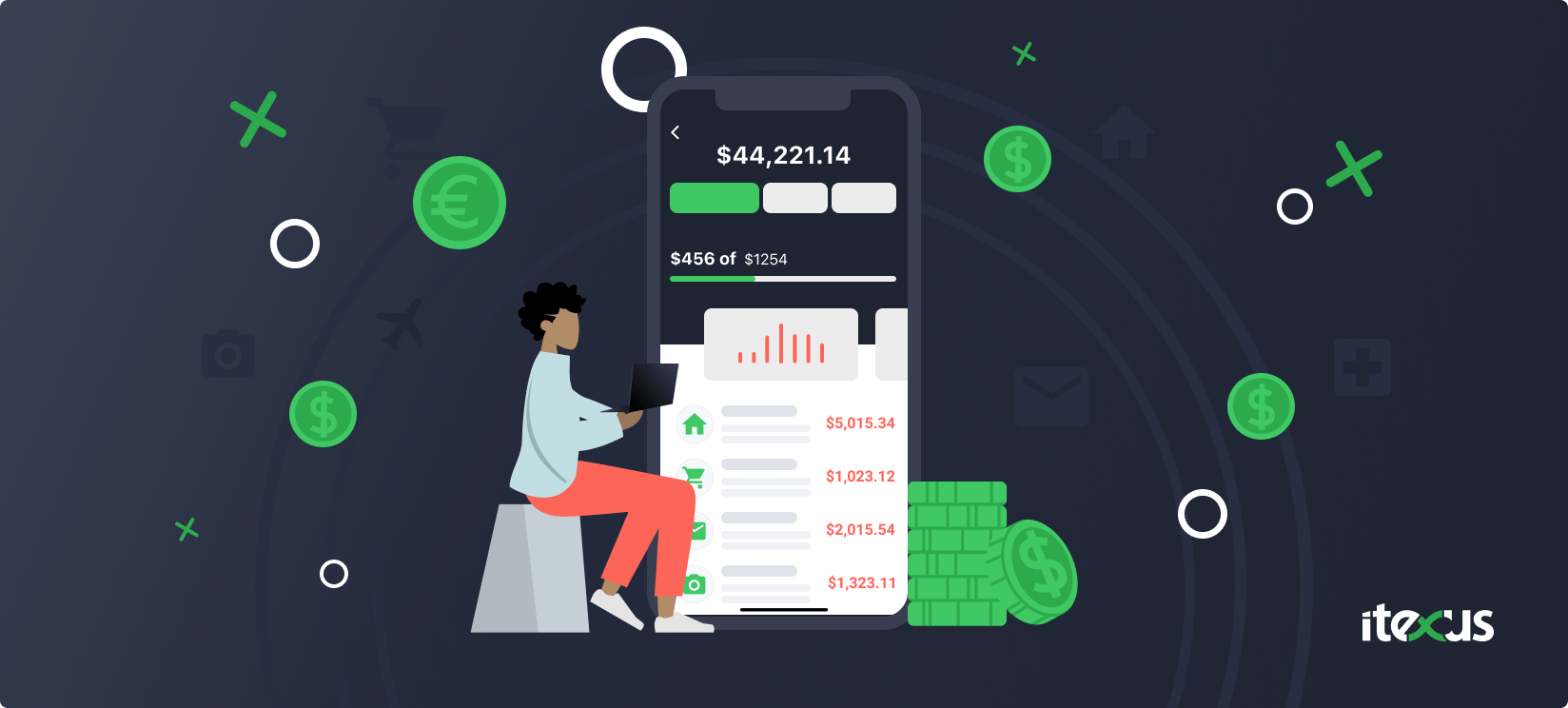 Budget App Market Trends
Today's users set high standards for their digital financial management applications. To succeed in the market and gain users' love, your app must be equipped with a comprehensive set of features. So before you start developing or even designing your future app, you should study your competitors and explore the market trends.
The Most Popular Personal Finance Apps
Mint personal finance app is one of the most popular budgeting solutions available today. It helps users automate their budgeting process and find ways to save and set aside money for future goals.
YNAB (You Need a Budget) – personal finance and spending tracker with educational features that help users save $600 in the first two months and more than $6,000 in the first year.
Simplifi by Quicken – the app offers a personalized spending plan with real-time updates on how much more users can spend during the month and syncs their bank accounts to show users their progress on financial goals.
PocketGuard – the app helps curb excessive spending by using an algorithm that tracks the user's income, spending, and savings goals to determine how much the user can spend each day.
Chatbots come into play
The use of chatbots and virtual assistants for expense tracking is an emerging trend in finance. Whether a chatbot is integrated into a budgeting app or messaging platform or is a standalone solution, it helps users track their expenses and save money. AI-driven chatbots streamline user experience while reducing the workload of the support department.
Crypto adoption is a must
Today's users want to manage their crypto assets alongside fiat and stocks. Mint, for example, allows users to manage bitcoin balances, and some other apps allow users to manage crypto wallets and trade cryptocurrencies. Enabling users to track their crypto expenses is therefore essential to ensure the app's competitiveness in the market.
Multifunctionality is in demand
Personal finance app should not only track income and expenses, but also provide users with financial literacy, help optimize their budgets, and thus facilitate the management of personal wealth. To achieve these goals, the application must have a rich functionality adapted to the current market demand, which is confirmed by the most popular personal finance apps.
Essential Features Users Expect From Personal Finance Apps
Let's explore some important features your app must have to attract and retain users and become their tool of choice.
Integration with payment services
It's convenient for users to be able to link all of their accounts together, as this allows them to manage all of their money in one place and gives them a comprehensive overview of their finances.
Data visualization
Stunning data visualization is essential for a budget app. Appealing charts, infographics, and dashboards make raw data understandable, helping users better grasp information and manage their finances.
AI-Powered Financial Assistance
To stand out from ordinary income and expense tracking solutions, equip your budget app with AI technology. AI algorithms analyze collected data and convert it into actionable insights helping users align their spending with saving goals. Mint, for example, can analyze users' spending habits, automatically categorize transactions, and provide valuable tips on how to optimize costs. AI helps personalize budgeting apps so that they look for discounts on used subscriptions, inform about upcoming bills to avoid overspending, find savings opportunities, etc.
Gamification
Gamification features within a budget app increase user engagement and motivates them to interact with the app more often, helping them achieve their savings goals in a fun and effective way. Small things such as lists of achievement points and in-app rewards are of great importance as they can encourage users to try harder on the path to reaching their financial goals.
Robust security
For a budgeting app that has direct access to a user's financial accounts, it is critical to ensure a high level of security. The app must comply with modern standards for data processing and management, such as GDPR and ISO 270001. For this reason, your app should be built with a secured cloud infrastructure, and make sure to conduct penetration testing and security audits.
A short breakdown of Mint
Mint is a good example for those who want to win market share with a personal finance management solution because it has various significant benefits, such as automation features and robust security. However, there are some drawbacks too. Let's look closer at the positive and negative sides of the Mint's personal finance management capabilities.

How Mint Generates Revenue
Let's find out how to monetize your personal finance app on the example of Mint which generates its revenue primarily through three sources:
Advertisements. Mint has monetized its free app by displaying ads in various places on the app to generate advertising revenue.
Referrals to other financial institutions and companies. Mint generates revenue based on referrals made to financial institutions, products, or credit cards. When a consumer uses Mint's advice, Mint is rewarded by the referred company with a referral payment.
The sale of user data. Mint has ongoing, real-time access to valuable data about consumer trends, so the app earns revenue by selling and distributing aggregated user data. Note that Mint anonymizes the data to protect user privacy.
Any questions? Drop us a line.
Approximate development costs
There are several factors that can affect the final cost of Mint-like app development. Let's explore the most essential ones.
Hiring Model
• Building your own IT department may seem like the best option at first glance. However, it is actually a challenging and time-consuming process that involves high costs for managing employees and robs you of flexibility.
• Hiring freelancers is the cheapest model. However, it is extremely difficult to find reliable professionals on the market and bring them together to form an effective software development team to build a high-quality budget app. Moreover, project management is a major challenge in this approach.
• IT Outsourcing is the best alternative to the aforementioned approaches. You can delegate the entire process of creating a personal finance app to a team of IT specialists with the required expertise and enjoy control over the work process. You can also simply add the required professionals to your in-house development team. Outsourcing allows you to find the most suitable people for the project implementation and remain flexible.
Feature Set and the Overall Project Complexity
To help you better understand how many man-hours are required to develop an app like Mint, we have provided a breakdown of Mint's features. According to rough estimates, developing a personal finance management app with such a feature set will take around 2000-2500 hours.
• Multi-factor authentication
• Account aggregation
• Categorization and budgeting
• Setting financial goals
• Tracking bills and expenses
• Saving tips
• Analyzing investments
• Reports (including credit scores and net worth calculations)
• Refinancing
• Notifications and alerts
• Personalized offers
• Help and support
• Synchronization with Mint.com
• MintSights
Team Composition and Hourly Rates
A typical team for building a finance management application consists of:
• Project Manager
• Business Analyst
• UI/UX designer
• 2 mobile developers
• 2 backend developers
• 2 QA specialists
You can expect to pay about $50 per hour so the cost of developing a personal finance management app starts from $100,000-150,000.
To sum up
Developing a competitive personal budget planner app is a complicated and time-consuming process that requires both technical expertise and a thorough understanding of industry specifics. Over the years, we have gained unique fintech expertise by working with both market newcomers and established players. Now we are ready to share that expertise with you. So if you want to develop a finance app, reach out. We will help you turn your idea into a product that can take on the existing players and occupy a wealthy place in the app stores.
By Itexus Team