Nowadays, people cannot imagine their lives without a mobile phone. It has become a multifunctional device acting as a watch, means of communication and entertainment, a book, and quite recently a digital wallet, your entry gate into the world of finances. Checking card balances, paying a credit, taking a loan, and sending money to relatives and friends are now reachable at a click of a button. Although even 10 years ago you would have to go to your bank, make an appointment, probably wait in line, and sometimes once the service is requested even wait for a day or two for it to be fulfilled. Modern digital wallets could do magic: control your spending, send you notifications once you find yourself binge shopping, advice on investments, earn on the blockchain, etc.
Digital finances are a necessity, it is bringing manifold opportunities to people around the world regardless of their age, country of residence, and level of education. Equally important is to find the right partner to develop a digital wallet. Let's take a closer look at the top digital wallet companies disrupting the fintech market and bringing best-of-its-class mobile wallet solutions.
Itexus is a digital wallet company that always stays relevant to the newest trends in the sphere of digital finances. They are specializing in custom and boutique digital wallet development providing solutions with standard and one-of-a-kind features spiced up with outstanding mobile app design. The Itexus team has a vast experience in various fintech app development, which distinguish them as a company having exceptional control over the time and resources requested to build any type of fintech app. If we speak about digital wallet engineering, the average time spent by the team is around 5-6 months. In addition, Itexus provides team augmentation services and discovery phase-as-a-service, which is extremely valuable if you still don't have a clear picture of what kind of product you want to receive. Itexus has massive expertise in the development of a highly secure solution with superior UX/UI, which is easy to navigate, highly discoverable, and offers user engagement promotion.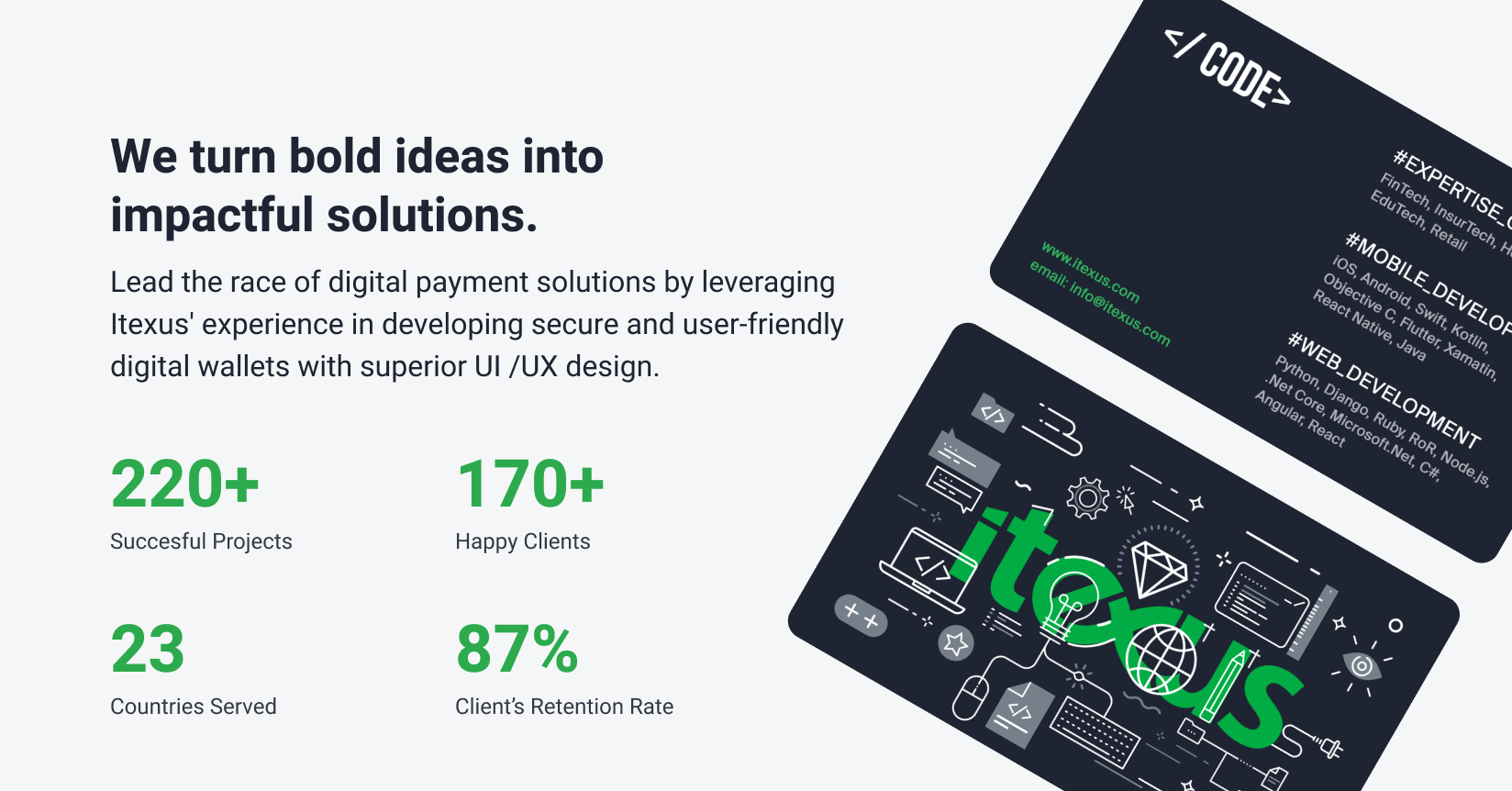 2. Moqod
Moqod is an outsourcing fintech development company specializing in digital wallets. The company has a record of successfully managing projects for US and Canada-based clients. They provide several engagement models and specialize in turn-key digital wallet app development powered by AI, smart integrations, data analytics, and cloud technologies.
3. Josh Software
Josh Software is a digital wallet provider dedicated to the development of robust wallet apps, seamless in their operation and extremely productive in obtaining new users. This mobile wallet company concentrates on prototyping, scalability, improved user retention, and quality assurance. They are experts in payment systems creation powered by solid fintech analytics.
4. Rare Crew
Rare Crew is a one-stop shop for custom digital wallet development holding expertise in innovative solutions for iPhone, Android, and other wearable devices. The team pays particular attention to the security of their digital wallet apps. Rare Crew develops fintech apps compliant with GDPR and CCPA.
5. Fintek Software
Fintek Software is an expert in fintech web and application development. Given that Fintek Software team has delivered and deployed numerous solutions, they are very effective in third-party integrations, NFC, iBeacon, and Bluetooth as well as delivering hybrid digital wallet services. The team is equally excellent in one-off project management or ongoing support service. Moreover, they could provide support during office hours.
6. Softwire
Softwire is one of the digital wallet companies programming native apps and mobile-optimized web experiences. One of their clients is a high street UK bank and several other governmental institutions. Softwire team is not only skilled at balancing between the client's satisfaction and cost-effectiveness of the project but also introducing revolutionary services.
7. Robosoft Technologies
Robosoft Technologies are old birds in the fintech market with more than two decades of digital app development experience. Being among the leaders of digital wallet development, they know exactly how to balance demanding security, complex system architecture, and outstanding customer experience. This digital wallet company knows exactly what to do to bring an engaging mobile interaction experience to a top-tier digital wallet functionality.
8. Concise Software
Concise Software development team are experts in digital wallet app creation capable to increase clients' ROI and achieve other business goals. Also, this digital wallet company has vast expertise in building online payment and money transfer systems, banking and investment, insurance, and lending apps. Alongside traditional digital wallet functionality, the team may upgrade the client's fintech solutions using Near-Filed Communication, Secure Transmission, Quick Response, and other state-of-art technologies.
9. CFCS Cloud
CFCS Cloud is a well-known player in the market of digital wallet creation for Android and iOS devices. During their 25 years in operation, they have partnered with Fortune 500 companies as well as innovating startups. The team is recognized for its customer-centric approach, advanced crashlytics, regular updates, and technological flexibility of the apps they create.
10. Shockoe
Shockoe is one of the leading mobile wallet companies, praised for its detail-oriented team and unique touch to any app they create. The company is also known for outstanding design as well as cutting-edge technologies adopted along the way. Clients praise Shockoe for the measured and intentional approach to every project.
Any questions? Drop us a line.
3 Factors to consider when developing an eWallet
When designing an ewallet app, make sure you have considered these three points.
1. Great UI
UI design is all about helping users complete their tasks as easily and efficiently as possible. A user-friendly, intuitive, and engaging user interface (UI) helps keep users coming back to your app and ensures a great user experience (UX). So pay proper attention to UI – your app should be as visually appealing as user-friendly. In terms of ewallet development, a good UI means that it's easy for users to add, remove, and manage credit and debit cards and identification documents within the app.
2. Privacy and security
Robust privacy and security protocols are a must for a fintech app, as it deals with sensitive user data, so make sure to equip your ewallet with a multi-factor authentication option and encryption. Other measures you can take to ensure top-notch data security include training employees, creating backups, regularly patching security vulnerabilities, and having strict policies in place to protect users' offline data sites.
3. Integration with wearables
The popularity of wearables has grown exponentially. Therefore, it is important to provide seamless integration of your ewallet app with wearable devices such as smartwatches. Integration with wearables improves the user experience by making transactions much faster and easier for users, as they do not have to take out their smartphone at a PoS station.
How to choose a vendor for custom ewallet development?
There are some important points to consider when choosing a digital wallet development provider.
✔️ Industry expertise
Research the company's portfolio, and look for similar fintech solutions they have already implemented. Make sure the team is scalable if needed, and check how its previous projects perform. Examine it all carefully and don't choose the provider if even one pillar of a fruitful collaboration is missing.
✔️ Engagement models
There is a strong correlation between the quality of the result and the price of the provider's work. Trying to cut costs at the beginning can lead to budget overruns and performance issues. So try to find a middle ground instead of sacrificing quality for a lower budget. For this, choose an appropriate engagement model that meets your specific needs and goals. Different companies offer different options, learn more about all cooperation models to decide which model is right for you.
✔️ Support & maintenance
Ongoing support, maintenance, and improvement of the existing system are crucial if you want your eWallet to succeed. Find out if the provider offers further maintenance and on what terms, and only then sign the contract.
Money is a touchy subject, and users want to be sure that the payment solution they trust with their finances is highly secured. The reputation of your digital wallet must be impeccable, and it is directly related to the reputation of your chosen software development partner.
Itexus experience in digital wallet development
Mobile e-wallet application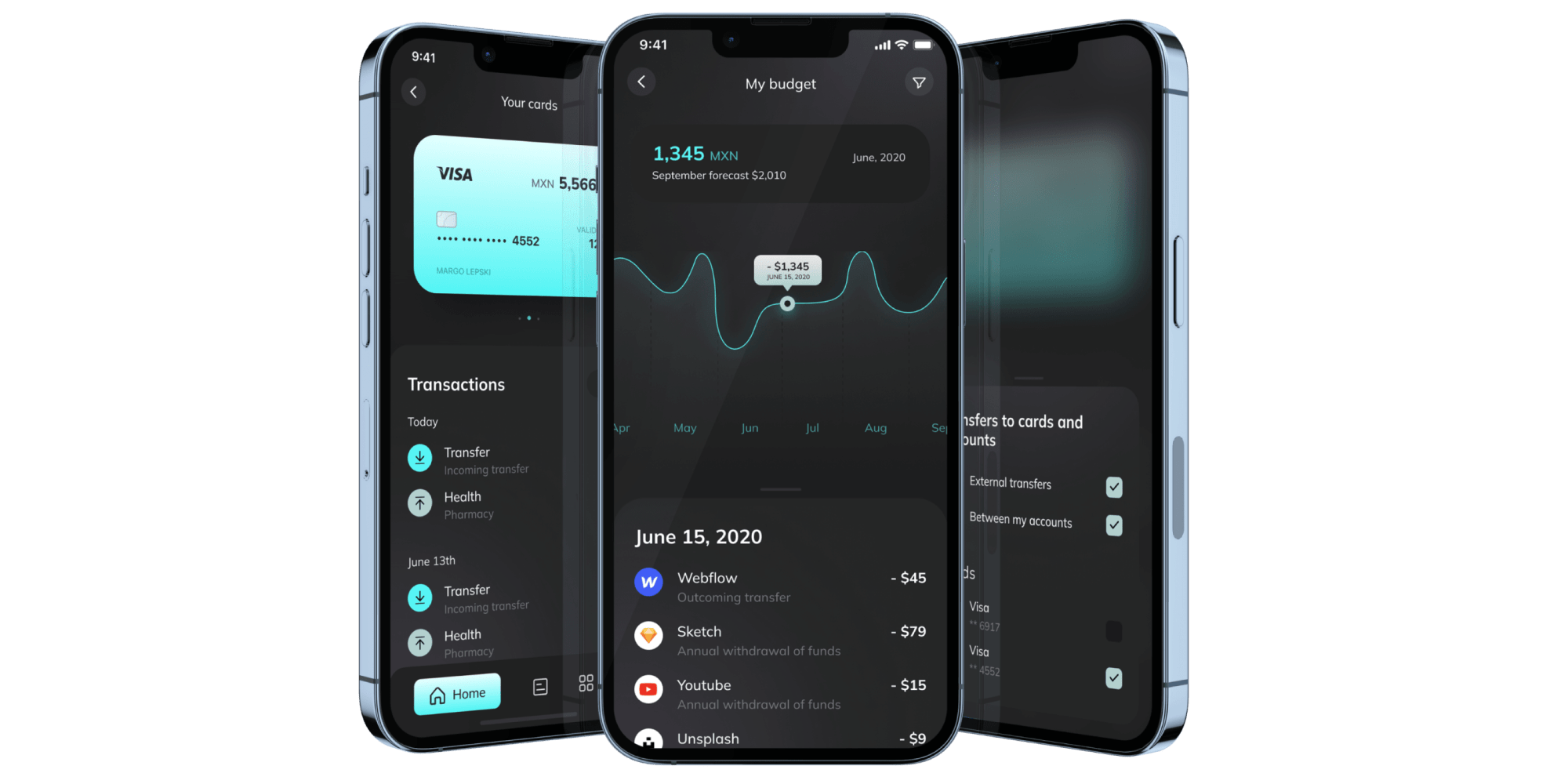 Itexus delivered a multifunctional digital wallet solution enabling users to connect credit and debit cards to their wallet accounts through banking partners and manage their assets cost-effectively and effortlessly going over the heads of traditional banking. Our team engineered digital wallet mobile apps for Android and iOS as well as a web app for the Admin panel. We empowered the solution with facilitated KYC and 2FA authentication. Also, we stuffed the digital wallet with the money transfer function, account recharge, bill payment, money withdrawal, QR code, virtual card payments, report generation, currency conversion, and other functionality.
To learn more about the project, please read the case study.
Team extension for building eWallet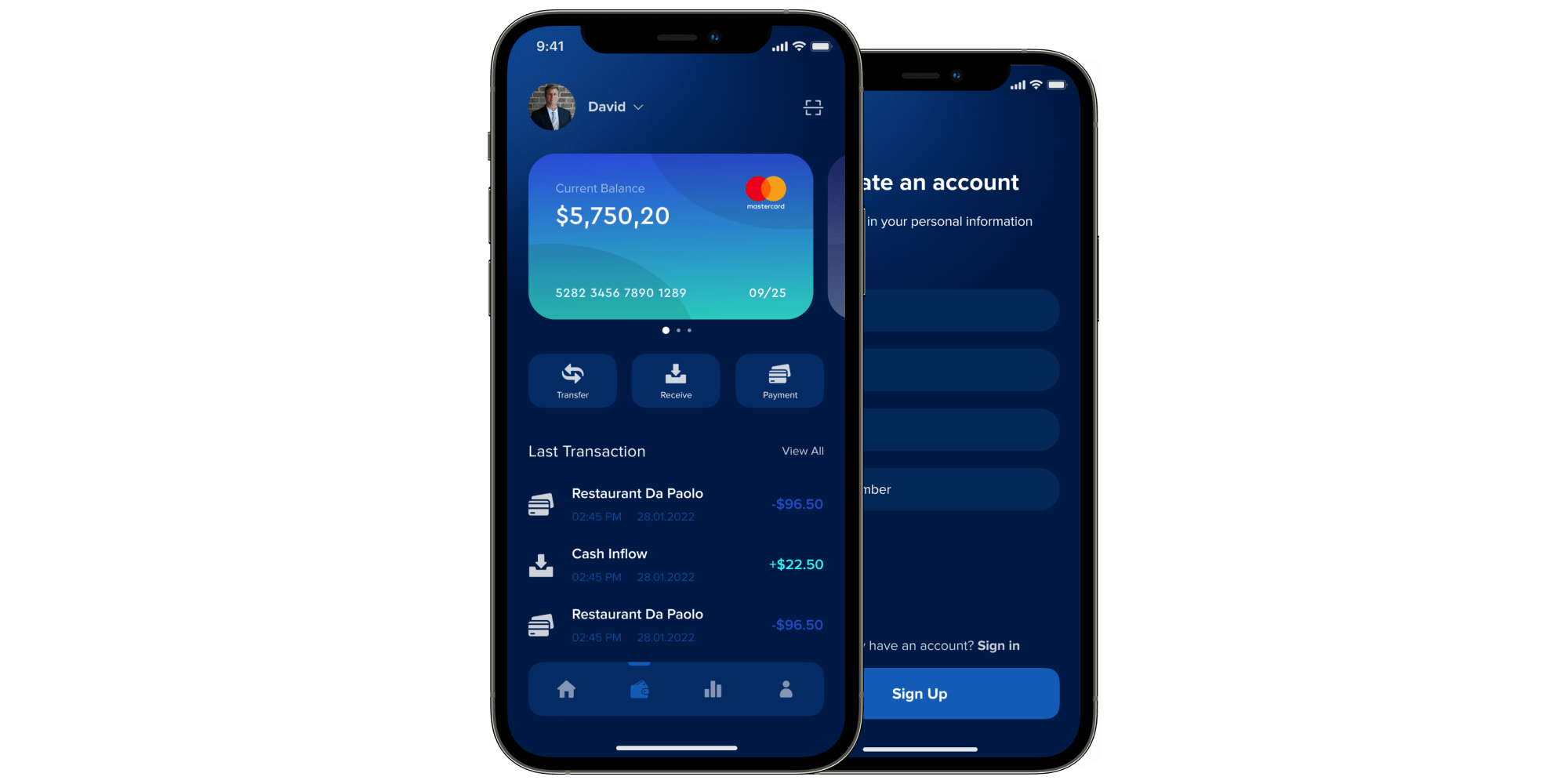 Knowing that our company does not only outsource and deliver high-ranked solutions from scratch, we also provide client team augmentation. The case under discussion is the provision of two of our digital wallet development professionals (Android and iOS) to complete the client's team and help them to finish the project. Our team members turned out to be extremely valuable, working within the augmentation model provided effectively and efficiently. Itexus top management had no problems providing individual working schedules for our extended specialists covering at the same time all the administrative issues.
To learn more about the project, please read the case study.
Mobile banking app for migrants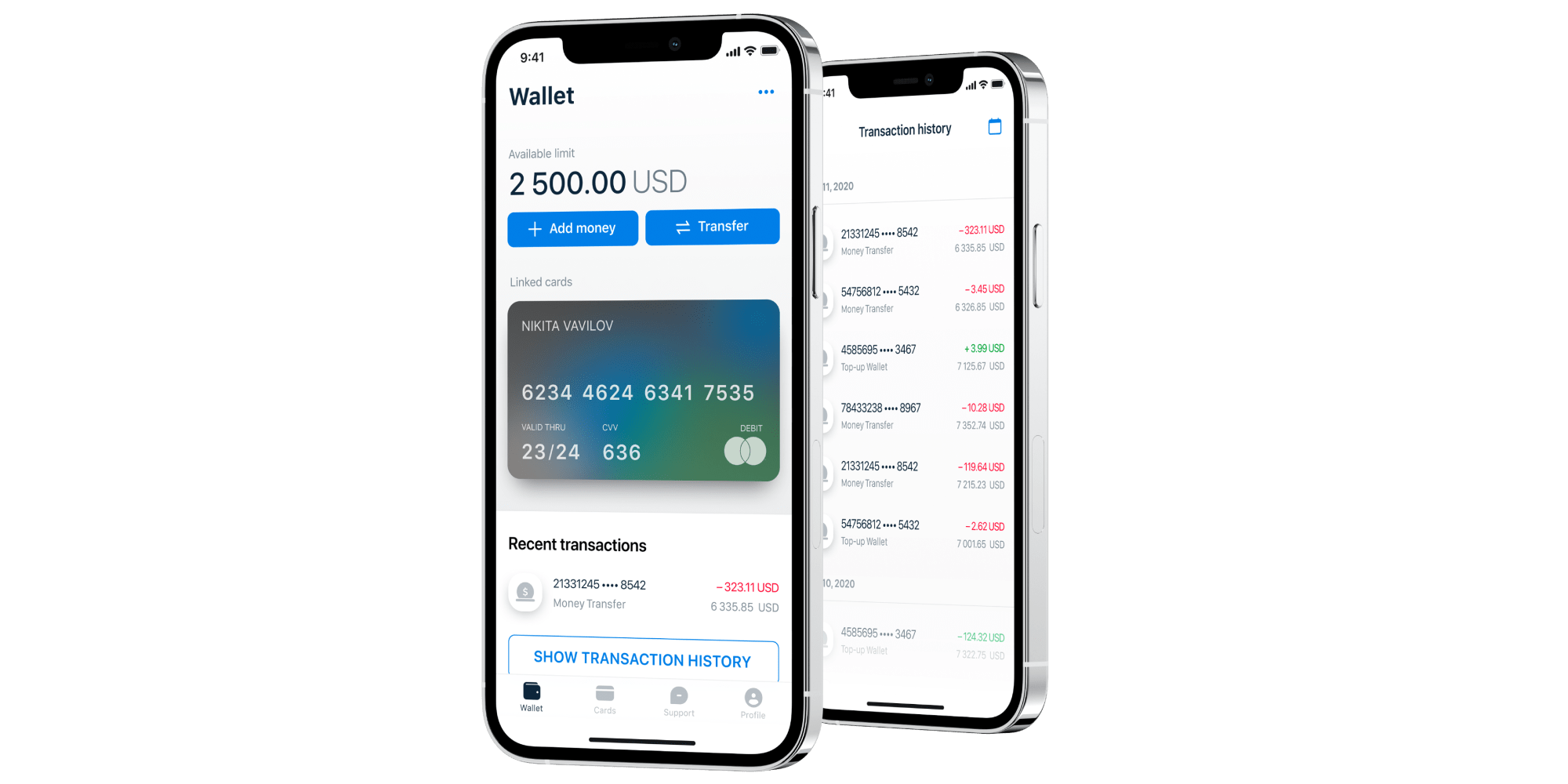 Projects picked up by Itexus are not only technically advanced and sometimes challenging but also bring positive social and economic impacts on people worldwide. The perfect example of such a service is a neobank solution we developed for one of our clients. Our client was not only looking for sound developers with vast expertise in fintech projects accomplishment but also specialists skilled in banking and financial regulations in the USA. It was crucial to make the app secure, AML, CFT, and PCI DSS compliant, as well as other governmental regulations. Also, the third-party APIs integrated need constant monitoring for updates which is performed by our dedicated support team.
To learn more about the project, please read the case study.
Summary
Digital wallets are facilitating our communication with financial institutions, acting on behalf of digital intermediaries. Technologies used enable fast-speed digital transactions, instant money transfers, bill payments, and other essential financial services. When choosing digital wallet providers, pay closer attention to their fintech expertise, engagement models offered by the company, support and maintenance provided, and the company's reputation.
Do you have an idea in mind or perhaps an ongoing project that needs a professional touch? Send us a request! Get connected with our specialist and let us do all the work while you can focus on strategic marketing for your solution.
By Itexus Team