Trading has always attracted people seeking additional income. Long ago, trading was a strenuous, semi-manual job, but today, with the help of the latest technologies and solutions, it's quite an enjoyable activity that can earn you money. Every year, more and more trading companies are considering building their own trading platform and are looking for a team of developers to make their idea a reality. No wonder, as automated and algorithmic trading systems are the most intelligent solutions that make trading so much easier.
The process of successful trading requires a powerful solution that allows traders to analyze data, reduce risks, and react to rapidly changing market conjuncture promptly. Developing such a stock trading platform from scratch can be pretty hard, so leave it to the professionals – here's a list of top trading software development companies.
Itexus is a finance app development company that builds trading and digital wealth management solutions providing built-in automated advisory functionality, data-driven stock market and portfolio analytics, automated transactions, and trading. The company delivers secure and smart trading solutions with stock market quantitative analytics, portfolio construction, analysis and optimization tools, real-time algorithmic trading, and passive asset allocation strategies.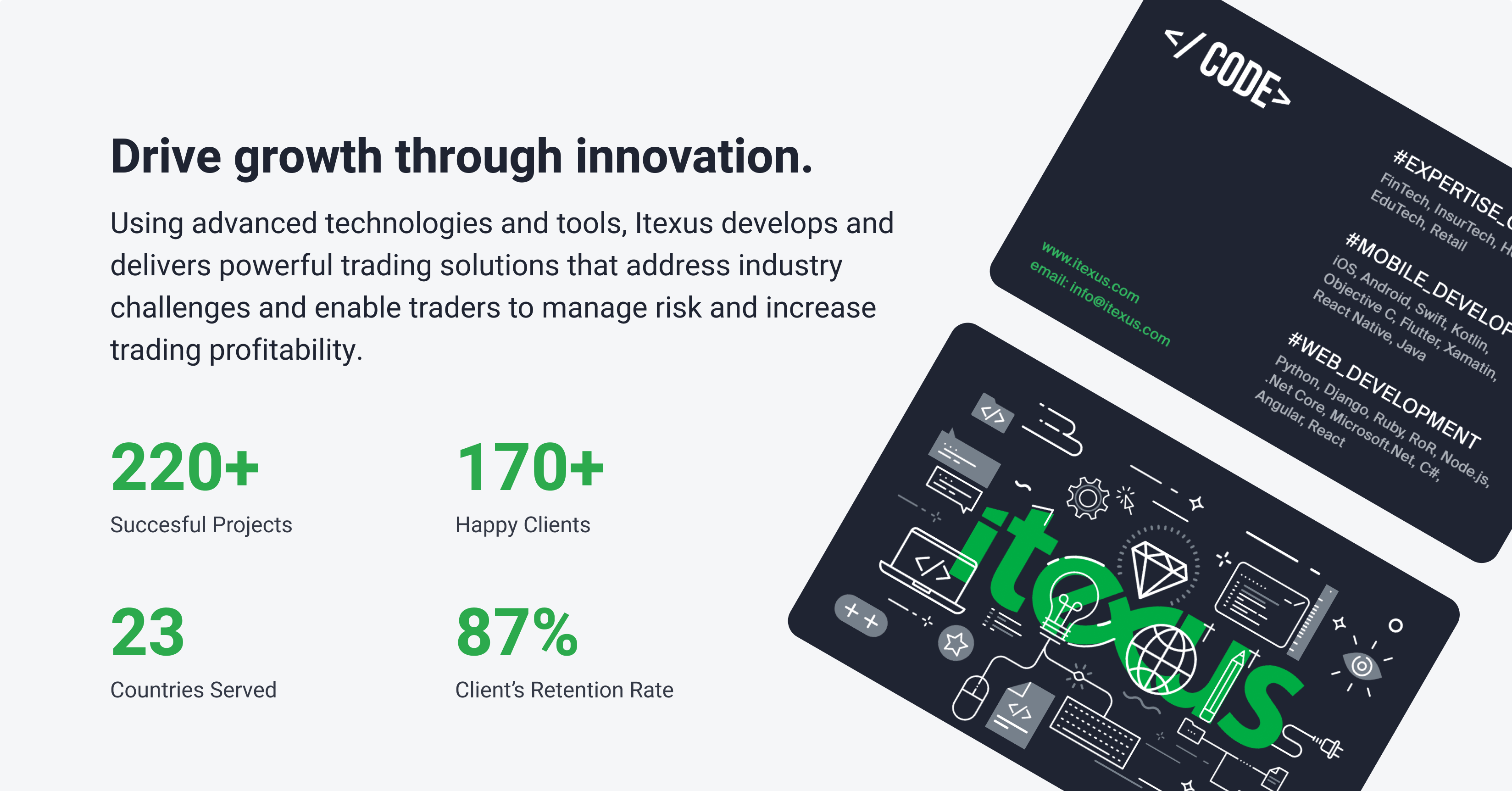 2. InfosysTrade
InfoSysTrade rapidly prototypes, designs, and delivers high-quality trading and financial software. The team consists of exchange and trading platform developers, and experts in intelligent trading systems. Their experience and proven methodology result in stable, secure, and high-performance, and cost-effective trading software.
3. Techasoft
Techasoft sets up clients' products from scratch implementing only a logic specific to their niche. According to business objectives, the team analyzes the client's requirements and proposes the best solution which is suitable for the business and can be customized as per the organization's needs.
4. Empirica
Empirica has 10 years of experience in trading software development for capital and crypto markets. The team focuses on integrating such components as execution engines, portfolios, investor frontends, trading algorithms, and connectivity to crypto, and traditional exchanges into their client's solution.
5. Softvelopers
Softvelopers' experts know how to deal with challenges specific to the trading industry. They strive to exceed clients' expectations by developing top-notch crowdfunding, multi-market, multi-asset, single-dealer, and enterprise-wide trading platforms.
6. Magnise
Magnise is a cryptocurrency exchange software development company, creates solutions for traders & brokers worldwide. Software specialists use the latest trading software development tools & technologies to build truly breakthrough products.
7. Mobilunity
Mobilunity is an experienced company that creates trading software and platforms for online trading. The company is willing to help clients to establish their business presence on the online market and take their places among the brands. The team makes sure that all the strict requirements of banks and companies for online trading are fulfilled.
8. Scopic Software
Scopic leverages the latest technologies and tools to create web and mobile trading platforms. They value clients' vision and security and mostly work with financial brokers, traders, and entrepreneurs looking for more flexibility and faster results.
9. Rademade
Rademade is a custom trading software development company experienced in creating solutions for algorithmic trading. The team introduces the most innovative technologies and tools, strictly adheres to the client's requirements, and strives to keep within the budget and meet deadlines.
10. Technoloader
Technoloader is a global IT solutions provider that covers all aspects of trading software development to strengthen and expand their client's business. The services provided start with website, mobile app, and game development going all the way to blockchain and trading software.
Itexus Expertise in Trading Software Development
Over the years of developing fintech solutions for businesses across the world, Itexus has mastered the art of exceeding client expectations. Take a look at some trading solutions Itexus has recently implemented.
Stock Trading Signals Platform
An investment company specializing in active day trading on the stock market turned to Itexus to develop a configurable platform that could automate technical analysis tasks and calculations according to the company's strategies for different asset classes. For this client, the Itexus team developed an intelligent investment assistant that performs technical analysis on a range of stocks, automatically tracks multiple indicators on the stock exchanges, and generates buy/sell and risk signals for a human trader. The solution enabled the client's in-house trading team to identify investment opportunities faster, make decisions with fewer mistakes, and thus increase the company's trading profits.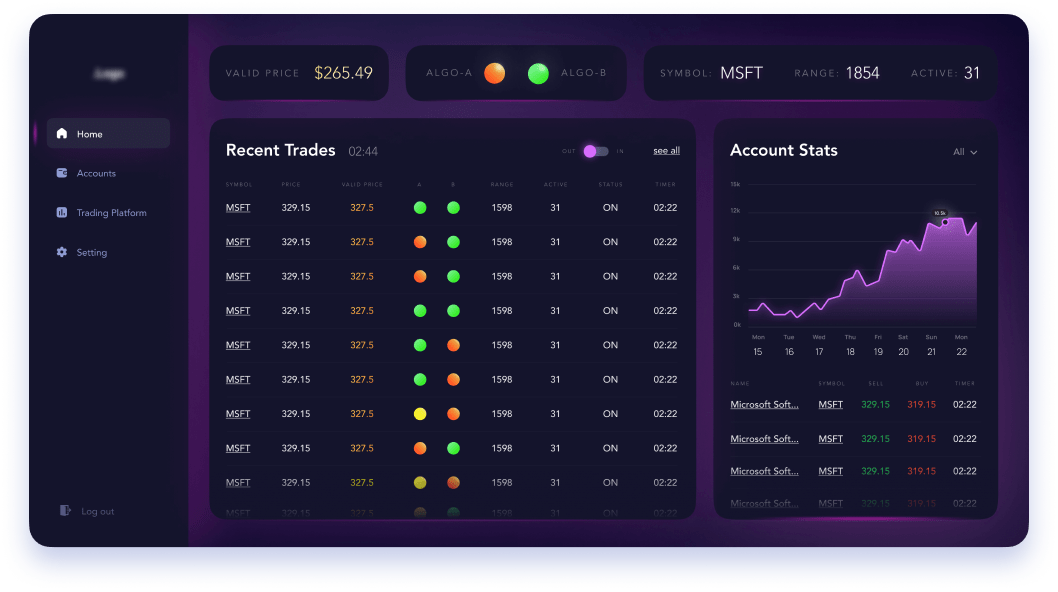 To learn more about the project, please read the original case study.
Algorithmic Intraday Stock Trading System
One more trading solution was delivered to a wealth management company with 20 years of experience and its proprietary active stock trading strategy. The client wanted to create a SaaS system that would automate the trading strategy and operations goal and help to increase the customer base, augment profits from trading, and decrease the cost of operations. In a nutshell, the solution allows investors to connect their brokerage accounts and configure a robot to trade stocks from their accounts automatically for a commission and subscription fee.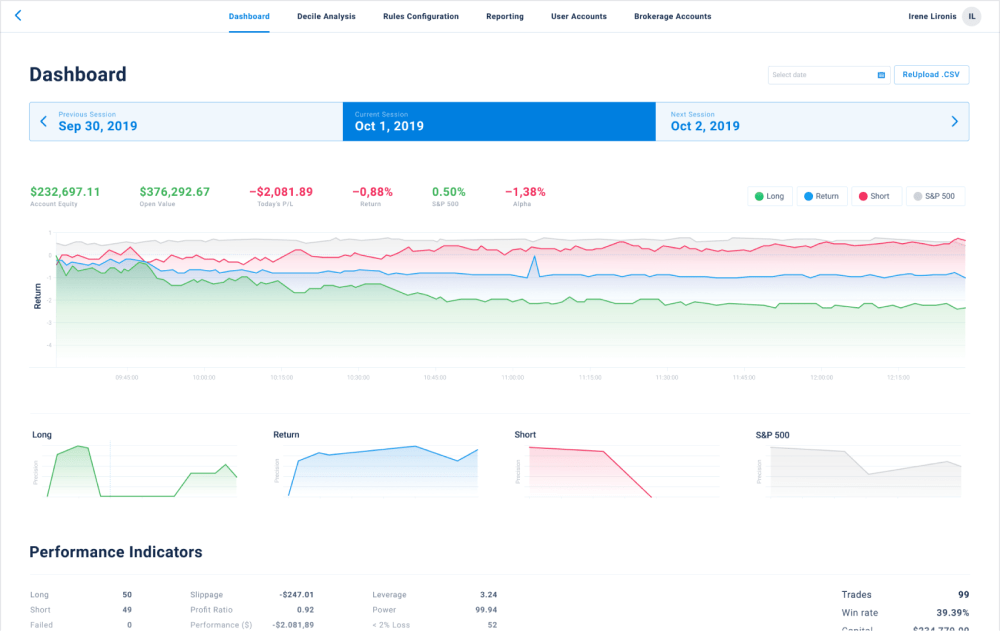 To learn more about the project, please read the original case study.
Stock Trading Bot
An investment company specializing in active stock trading approached Itexus to implement a trading bot that would automate one of the company's proprietary stock trading strategies. The strategy is based on the scalping style, which specializes in profiting off of small price changes and making a fast profit off reselling. The bot delivered by Itexus is a cloud-based application connected to a brokerage account via an API. It automates stock trading by executing trades based on preset requirements such as a stock's price, time of day, past trades that week, and technical indicators. The bot tracks stocks throughout the day, looking for a few indications as to when it should buy.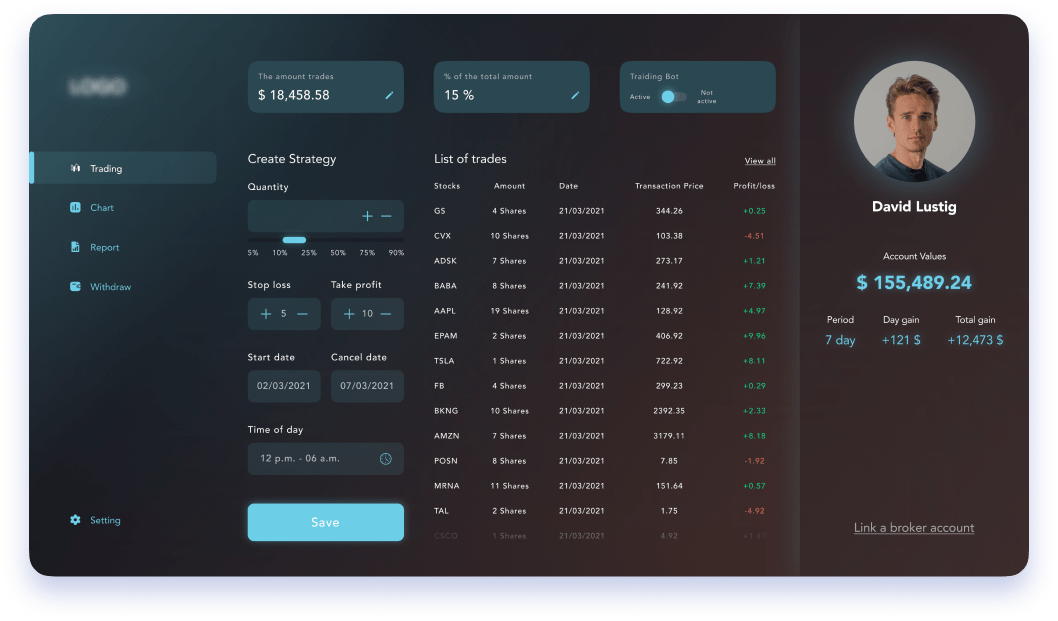 To learn more about the project, please read the original case study.
Centralized Platform for Trading Over-the-Counter Securities
Another client with long-standing experience in stock trading and professional investment portfolio management wanted to automate the process of OTC securities trading. He approached Itexus with the idea of building a centralized platform that would connect the security issuer or holder with the investor and automate the process of buying and selling over-the-counter securities. For this client, Itexus delivered a centralized platform for trading over-the-counter securities that brings holders and investors together, allowing them to bypass intermediaries and trade assets easily and quickly. To match buy and sell orders for OTC securities within the platform, Itexus engineers equipped the platform with a matching engine that identifies the best buy order with the highest price and matches it with the best sell order with the lowest price.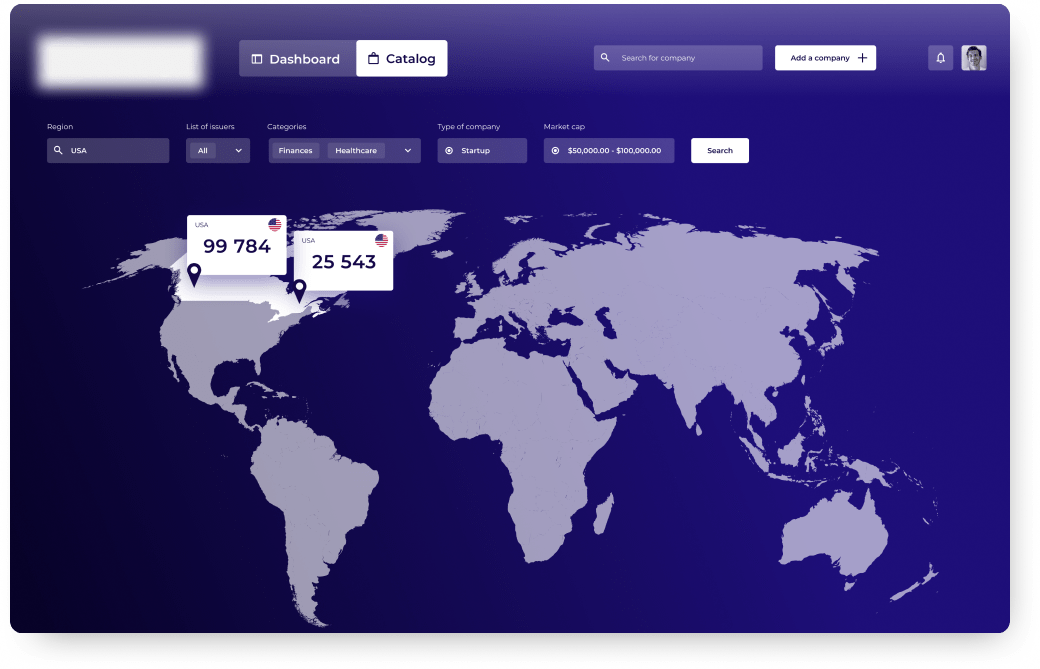 To learn more about the project, please read the original case study.
Any questions? Drop us a line.
How to Choose a Vendor for Custom Trading Software Development?
Let's point out what to keep in mind while choosing a contractor for trading solution development.
✔️ Domain Expertise
While shortlisting companies and choosing the winner, pay close attention to the relevant expertise because it's illogical to anticipate that the company specializing in, say, telemedicine would build a stellar trading solution.
Figure out whether the company has had similar projects, clarify if they can scale the team if needed, and check how their previous projects perform. Consider all the details carefully and don't go for the vendor if he's lacking one important ingredient of productive collaboration.
✔️ Support & Maintenance
Developing the system itself is only half the battle. The other half is constant support and maintenance of the existing system. Learn whether and on what conditions the vendor provides further maintenance beforehand and only if the terms are acceptable, sign the contract.
✔️ Rates
There's a direct dependency between the quality of the result and the cost of the provider's work. Attempting to make savings in trading platform development may lead to budget overrun and performance issues, so try to find a middle ground instead of sacrificing quality for a lower budget.
✔️ Impeccable reputation
Traders & brokers worldwide need to be sure the money and data they entrust to a trading system are highly secured. The reputation of your trading solution must be spotless, and it's clearly dependent on the reputation of the chosen vendor.
Get Your Project Estimate
Estimating your trading software project is key when shortlisting a candidate for development as it defines the time and budget required for developing, testing, and launching the trading platform. Getting an estimate is quite easy – drop us a line, sign the NDA, and after the goals and requirements discussion, we will provide a precise project estimate.
By Itexus Team