Investment management software offers investors multiple benefits:
more efficient recognition and management of investments' performance and risks
greater transparency in investments
on-demand access to planning reports
an improved decision-making process
real-time analytics for investment management
facilitated data management
improved operational efficiency
ensured compliance and traceability, etc.
Keeping up with investment trends and managing performance efficiently requires advanced digital transformation and automation technologies. That's why more and more asset management firms tend to work with software development companies to create custom investment & stock trading solutions.
Are you looking for a reliable software development partner? To make your decision easier, we've shortlisted the top 10 investment software development companies with solid experience in developing solutions for the financial services industry. Go check them out!
Top 10 Investment Software Development Companies to Keep Track of in 2023
Itexus has been developing custom investment and fintech solutions since 2013. Trusted by more than 170 clients from around the world, the Itexus team develops software for stock market analysis; tools for portfolio construction, analysis, and optimization; mobile applications for stock trading; software for document management; systems for financial data analysis and recommendation engines; and much more. The company's experts can update your legacy systems, digitize your services, use AI to gain valuable insights from your collected data, and automate your processes while adhering to the industry's compliance and security standards, helping you attract more clients, lower your operating costs, and increase your revenue.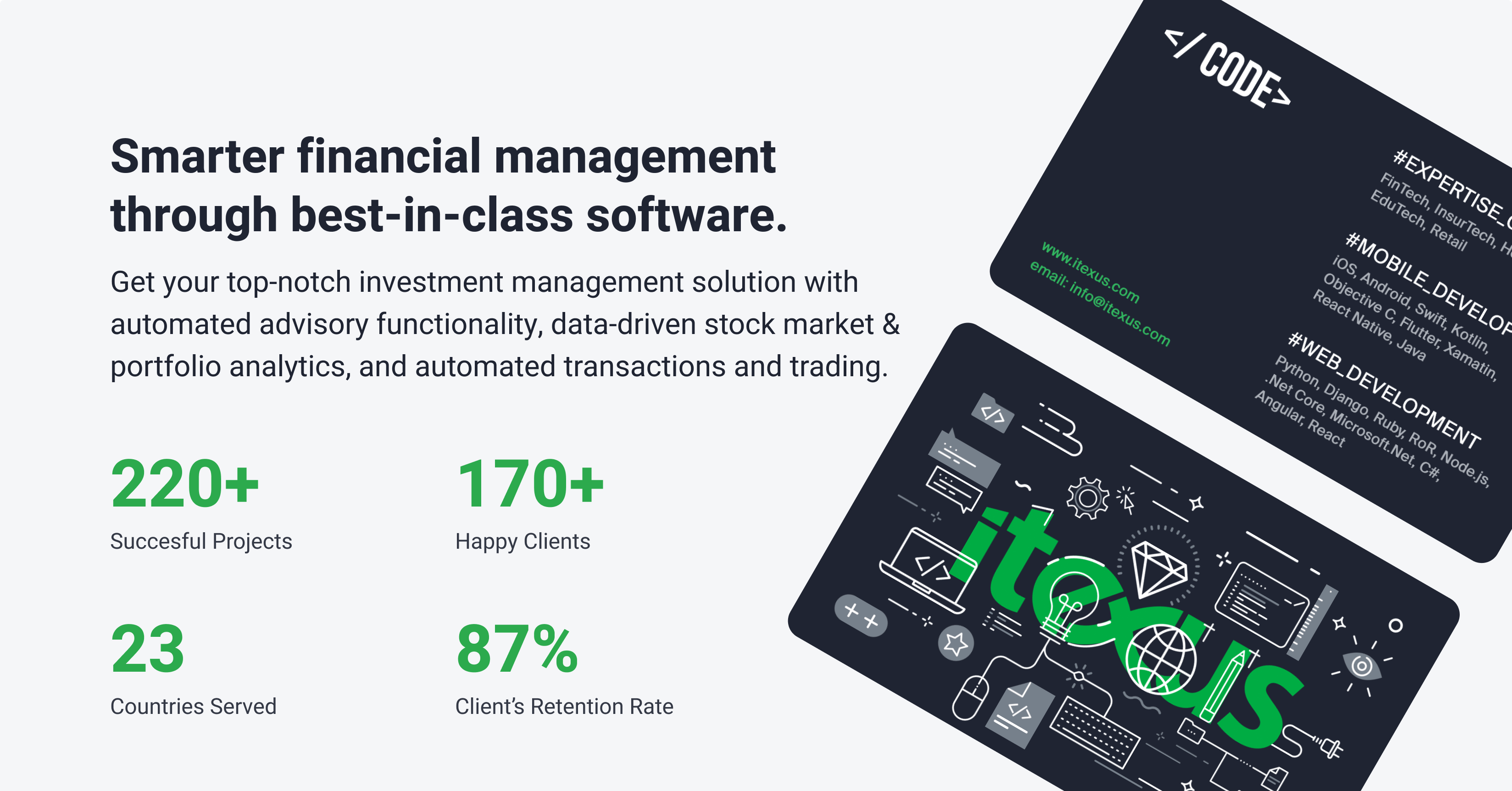 2. Paxent
Keeping up with the digital demands of their customers, the Paxent team internalizes design thinking, research-backed UX design, customer centricity, rapid user testing, user validation, and agile development to facilitate and accelerate clients' digital transformation.
3. Merixstudio
Merixstudio's key expertise is the delivery of high-quality web and mobile applications. Based on the needs of clients, they can support customers in end-to-end product development or seamlessly extend their in-house team of engineers.
4. Code&Pepper
As a FinTech software development company, Code&Pepper provide a product development framework and a team that includes all the roles required to build customers' product from start to finish. This is the right solution when a client doesn't have an in-house team with the required expertise to build a FinTech product and prefers to rely on the expertise of a tech partner.
5. Spire Digital
Spire's services are geared toward the product and innovation needs of their clients, resulting in business-critical applications that seize opportunities to increase revenues, operational efficiencies, market share, and customer satisfaction.
6. Saritasa
Saritasa is a full source mobile app, web, AR/VR software, systems architect, and IoT solutions provider that efficiently implements the design, development, and integration of complex technologies.
7. BairesDev
BairesDev provides end-to-end delivery for companies of all sizes, from startups to large enterprises. The heart of their work is software outsourcing, testing, and operational support which they provide through a service of fully managed teams that integrate seamlessly into projects.
8. DOOR3
DOOR3 is a software consultancy. Their purpose is to benefit clients — their people, products, and services. The team's core strengths are software development, technology strategy, and UI/UX design. Their difference is a peerless capacity to safely and reliably deliver solutions on time and on budget.
9. The Software House
The Software House is a custom application development company from Poland established in 2012. They help CTOs, Product Owners and entire businesses get their software products done on time.
10. Capital Numbers
Capital Numbers is an award-winning global solutions provider with over 500 in-house experts. Their teams have helped reputable global brands to scale and grow their engineering teams cost-effectively.
*This is, for sure, not a complete list of seasoned Investment software development companies, but fairly enough to get the concept of what the software service market looks like.
Any questions? Drop us a line.
How to Choose an Investment Management Solution Development Company?
Another question is how to choose a vendor, as finding the right partner is crucial to the success of the project. What should be considered? What are the most important points? What do you need to pay attention to? You may have asked yourself all these questions while searching the Internet for a reliable development partner. Luckily, we have a list of some essential points you should consider when looking for a financial software development company.
1. Industry-Wise expertise
If you want your superior solution to be delivered on time and on budget, it is advisable to look for a fintech software development company that has the relevant experience in creating and launching financial solutions for different markets using the latest technologies. Inquire if the shortlisted companies have a proven track record of creating investment management solutions. You can also ask for a reference and evaluate the company's portfolio.
2. Effective Communication Skills
It all comes down to whether or not the company can establish effective and comfortable communication to provide the necessary foundation for effective collaboration in the future. Choose a company that is close to your mentality and can easily understand your concerns and doubts to address them properly.
3. Reviews on Trusted Resources
Most software development companies have reviews on third-party resources like Clutch or Designrush. Usually, all reviews on these platforms are verified by the sites' admins, so there is no possibility of falsifying the testimonials. Checking the reviews is very helpful when it comes to deciding between shortlisted software development companies.
Examples of Investment Management Solutions
There are plenty of custom investment management solutions that your development partner can create for you. The architecture, design, and feature set will depend upon your specific needs and goals. Let's take a few examples of investment management solutions that Itexus engineers have developed. You may find some of the ideas quite innovative, so get ready to gain some insights for your project.
✅ Investment Management Platform
The Itexus team developed a private investor portal for an established investment firm based in Atlanta (GA). Featuring automated aggregation of financial data and visualization tools, the portal provides a complete overview of an investment portfolio, generates semi-annual and year-end reports, and supports secure integration with file hosting and reporting services.
For all further details on this project, please refer to the original case study.
✅ Stock Trading Bot
Another example of investment management software is an algorithmic intraday stock trading system developed by Itexus engineers for a wealth management company with 20 years of experience and its own stock trading strategy. The system, in its essence, is a stock trading bot that allows investors to connect their brokerage account and configure trading strategy parameters such as buying power, leverage, risk level, etc. and automatically execute trading from their account for a commission and subscription fee.
All other details about this project can be found in the original case study.
✅ Centralized Platform for Trading Over-the-Counter Securities
One more interesting solution developed by the specialists at Itexus is a centralized platform for trading over-the-counter securities. The platform brings together holders and investors, allowing them to bypass intermediaries and trade assets easily and quickly. To match buy and sell orders for OTC securities within the platform, engineers have integrated the platform with the Exberry Engine.
For all other details on this project, see the original case study.
To Sum Up
As technical capabilities increase and new software emerge, investment management and alternative trading systems are becoming more precise in managing risk and increasing trading profitability. This allows users to adjust strategies and helps avoid losses before the actual investment process begins.
Itexus is always up to date with the latest trends in investment software development. Over the years, we have gained unique expertise in developing investment solutions by working with startups and established companies. Want your investment firm to benefit from the power of modern technology? Contact us to find out how our specialists can make your vision a reality.
By Itexus Team