The emergence of trading bots has divided the trading community into two camps. While some argue whether it is profitable or too risky to trade with bots, others enjoy the benefits and generate additional income. Bots gained wide popularity – they are used by individual investors and traders as well as institutional investors such as hedge funds, venture capital funds, large investment firms, and so on. Want to automate your trading strategy and consider developing a bot for this purpose? We have shortlisted the top 10 stock trading bot development companies that can create a virtual assistant for you based on your strategy. Go check them out!
Itexus is a fintech development company with top-notch trading bot developers on board who can implement custom trading algorithms or strategies for your bot. The company is known for its rich hands-on fintech experience, robust development processes, and flexible client-centric approach. Itexus develops advanced and scalable wealth management and investment solutions, including stock trading bots, trading platforms, high-frequency trading systems, mobile trading apps, trading data analytics solutions, OTC trading platforms, asset, and equity trading software, brokerage systems, trading execution middleware, and more.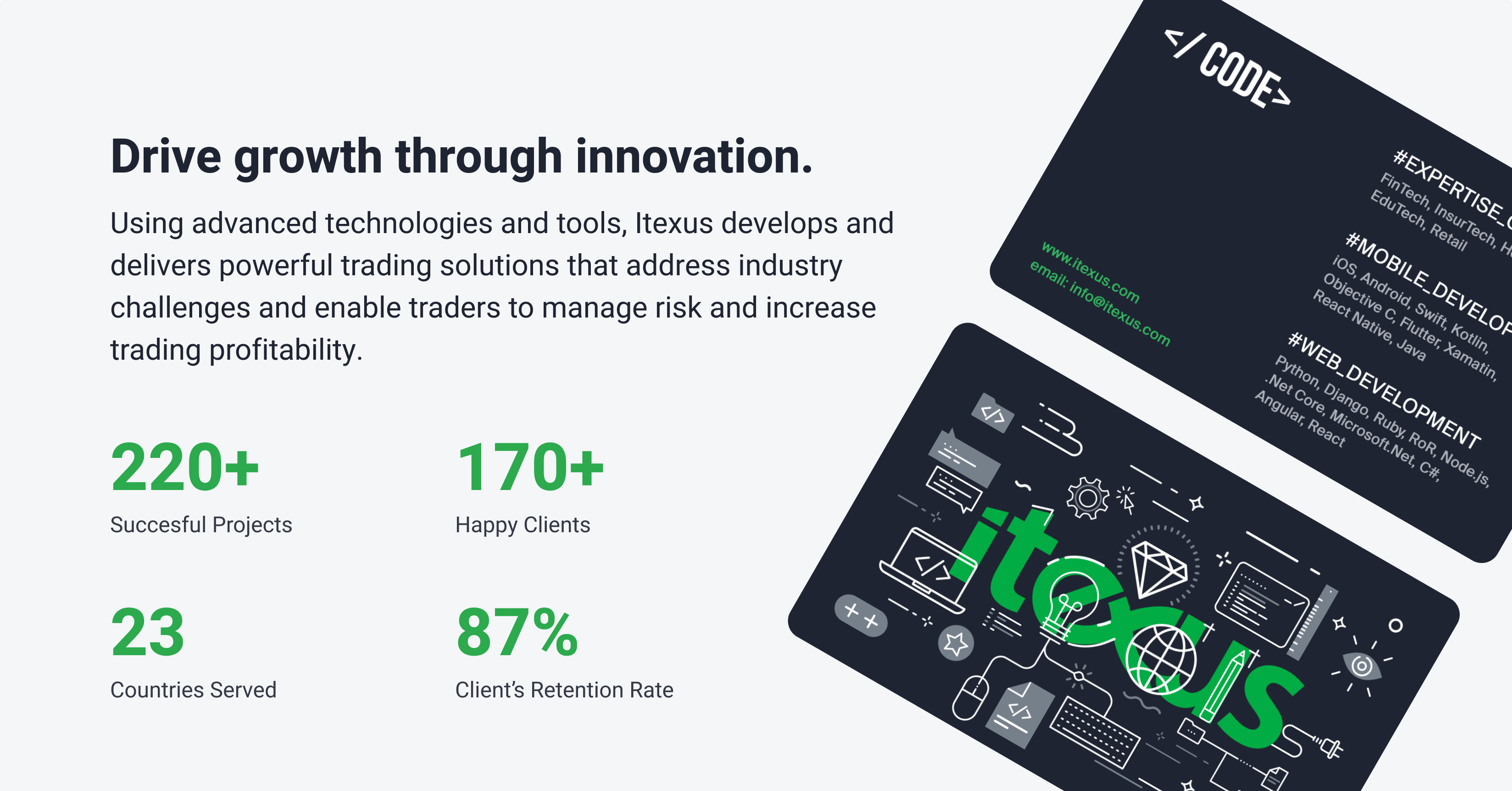 2. Techasoft
Techasoft is a company specializing in the development of trading bots, providing holistic solutions to clients around the world. The team develops bots and other automated trading solutions for brokers, traders, asset managers, and financial institutions. Techasoft's specialists can also help develop automated strategies based on the client's trading rules and implement advanced mathematical models for forecasting.
3. Scopic
Scopic is known for delivering turnkey trading solutions in an affordable, innovative and timely manner. The company works primarily with startups and individual traders, helping clients outsmart the market with unique trading solutions tailored to their specific financial trading needs and executing trades more efficiently.
4. Hashlogics
As one of the leading trading software development companies, Hashlogics develops AI-based computer programs or applications that trade cryptocurrencies based on predefined conditions. The firm specializes in the development of automated cryptocurrency trading bots that trade instantly and achieve incredible results.
5. OSIZ Technologies
OSIZ Technologies is a one-stop-shop for AI stock trading bot development. The team strives to exceed the expectations of its clients by providing them with robust, user-friendly, and smart trading software including bots for individual traders and investors.
6. Bitdeal
Bitdeal aims to transform the digital economy into a blockchain-powered ecosystem by harnessing the potential of new emerging technologies such as cryptocurrency, blockchain, NFT, and more. With experienced stock trading bot Python developers on board, Bitdeal develops crypto trading bots, cryptocurrency exchange scripts, decentralized financial platforms, NFT marketplace scripts, and so on.
7. Chetu
Chetu is a trading software development team that helps startups, SMEs and Fortune 5000 companies drive growth with reliable and scalable trading solutions. The firm can either build high-quality bots for stock trading from scratch or integrate custom functionality into existing systems to drive growth and innovation for exchange and asset managers, wealth managers, investment agencies, brokerages, and other financial institutions.
8. Openweb solutions
Openweb Solutions works primarily with SMBs and enterprises to leverage the power of the latest workflow automation technologies. To this end, they create high-performing trading bots and other types of stock market software for their clients across the globe.
9. Magnise
Magnise is a software development company that develops financial trading solutions, including intelligent bots for stock trading. The firm delivers industry-standard solutions to traders and brokers worldwide. Magnise's team uses the latest trading software development tools and methodologies to create truly breakthrough products, leveraging blockchain technology to build the most secure and innovative software.
10. Technoloader
Technoloader provides a wide range of trading software development services, including AI stock trading bots & stock market software development. The experienced team strives to exceed client expectations by delivering high-quality solutions with advanced features on time and within budget.
Any questions? Drop us a line.
Itexus Expertise in Stock Trading Bot Development
Take a look at some of the recent stock trading solutions that Itexus has developed.
Stock Trading Bot
For an investment company specializing in active stock trading, Itexus developed a trading bot that automatically trades stocks per intraday scalping strategy, following preconfigured buy and sell rules.
The bot is a cloud-based app connected to a brokerage account via an API. It consists of two components – the trading algorithm, which is responsible for buying and selling stocks based on the preset rules, and the admin part, which allows the user to manage risk by controlling the bot. The bot automates stock trading by executing trades based on preset requirements such as a stock's price, time of day, past trades that week, and technical indicators such as RSI (Relative Strength Index).
For more details about the project, read the full case study.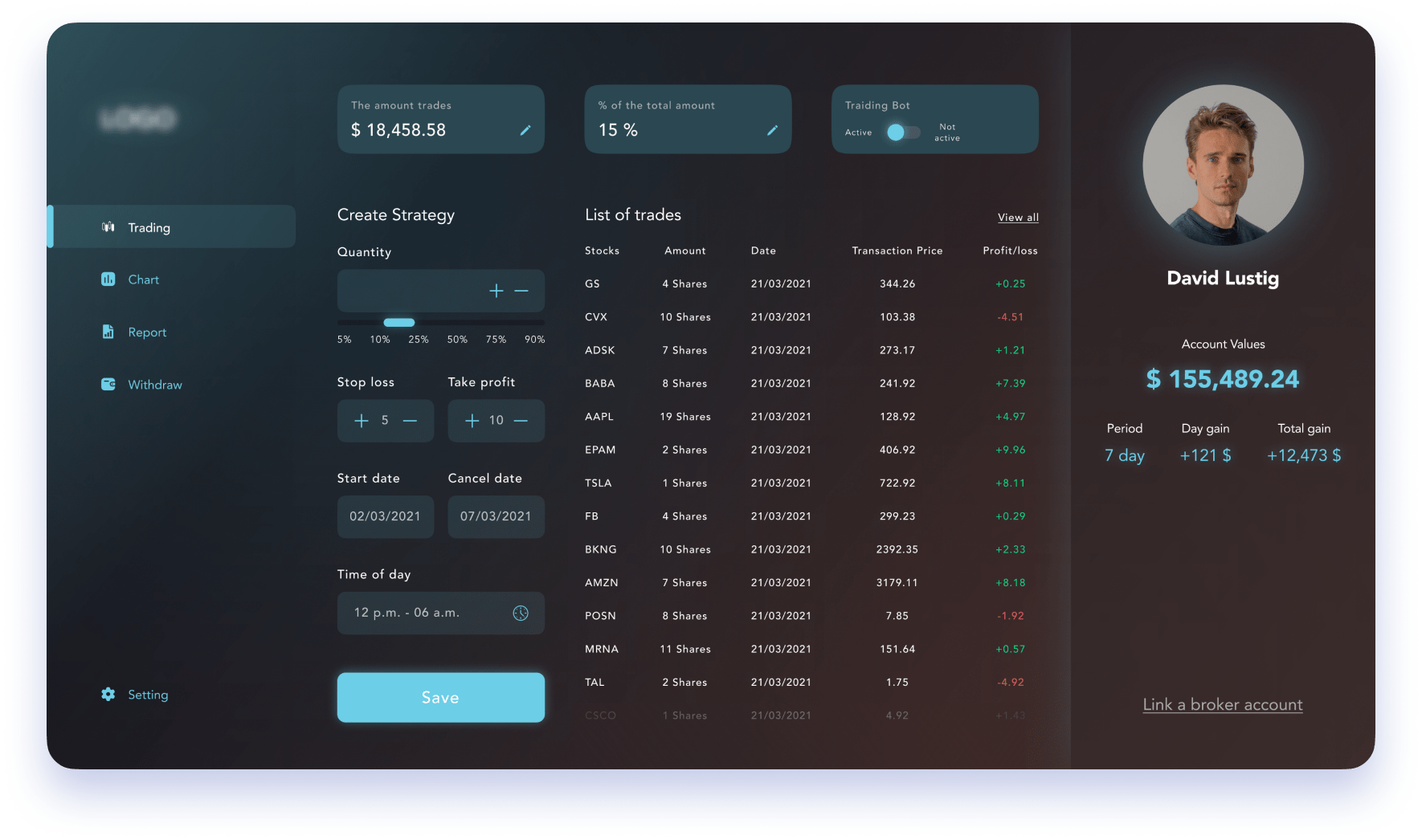 Algorithmic Intraday Stock Trading System
A wealth management company with 20 years of experience and its proprietary active stock trading strategy wanted to digitize the business to increase the customer base, augment profits from trading and decrease the cost of operations. To this end, they turned to Itexus to develop a system that would automate its trading strategy and operations.
The solution developed by our engineers is a SaaS system that allows clients to register and connect their brokerage account, configure trading strategy parameters such as buying power, leverage, risk level, etc., run automated trading from their brokerage account, monitor trades in real-time, and view profit/loss reports. In return, they pay a commission fee and a percentage of the profit made.
For more details about the project, read the full case study.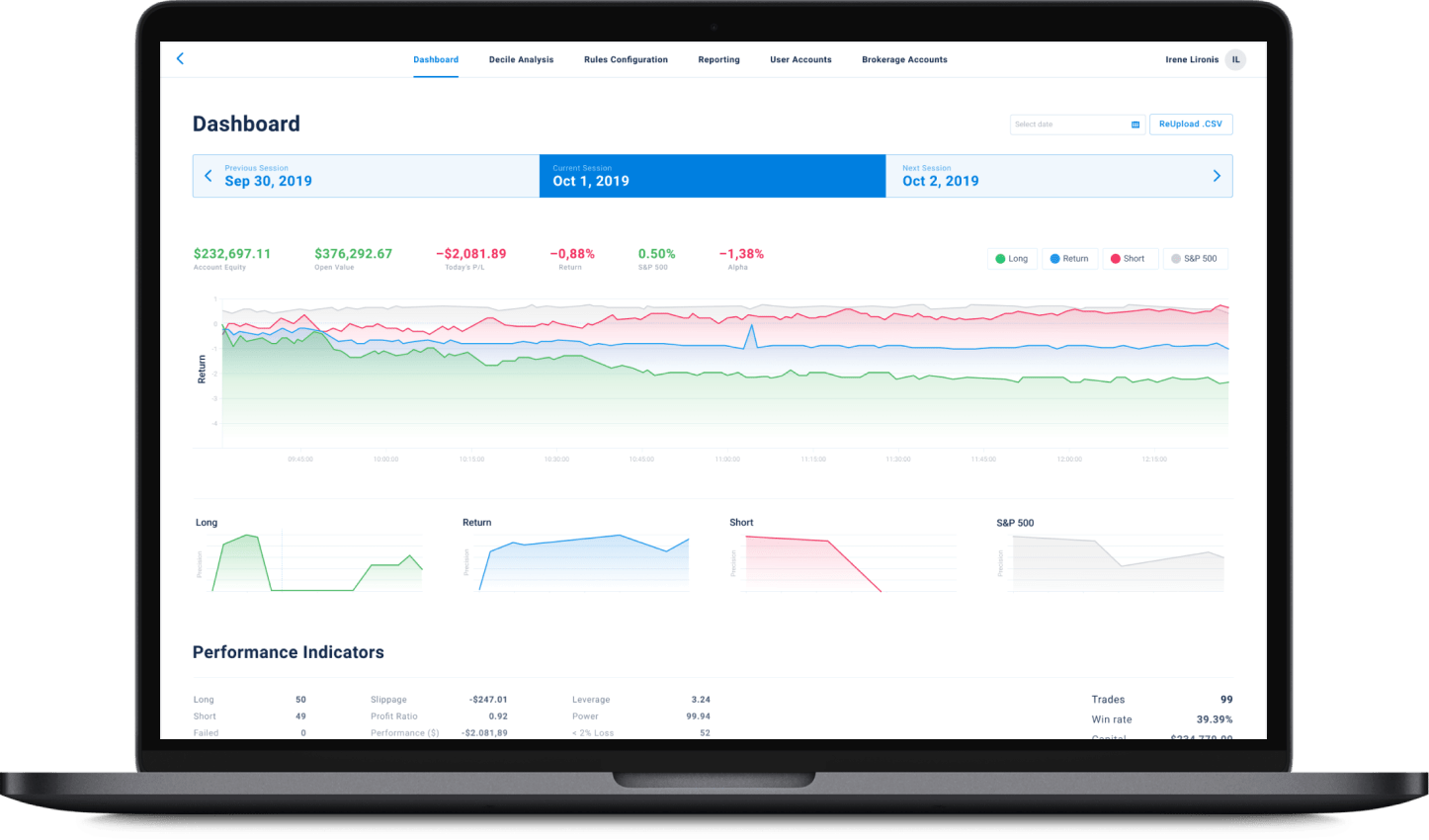 3 Trends to Watch in Stock Trading Bot Development
As the fintech landscape is constantly evolving, it's important to keep up with the latest trends in stock trading bot development to stay competitive. In this article, we'll introduce you to five trends to keep in mind when developing a stock trading bot and how they could impact the future of automated trading.
Increased Use of Machine Learning and Artificial Intelligence
With AI capabilities constantly expanding, we can expect progressively sophisticated trading bots that leverage ML algorithms. AI stock trading bots will handle the analysis of complex patterns in market data and make even more precise predictions about market trends.
Integration with Decentralized Finance (DeFi)
Another trend in automated trading that is gaining momentum is the integration of trading bots into decentralized finance platforms. Such integration enables the creation of dApps (decentralized applications) that run on blockchain networks and provide a secure and transparent environment for traders.
Use of Natural Language Processing (NLP)
NLP is an emerging technology that can potentially make trading bots more effective, efficient, and profitable. NLP can enable bots to analyze and interpret large amounts of unstructured data (e.g., news articles, social media posts, reports, etc.). This way, bots can extract valuable insights into important factors that can affect stock prices and make more data-driven trading decisions.
Summary
Over the years, Itexus has developed multiple trading solutions for both individual traders and institutional investors around the world. With experienced and talented engineers, business analysts, UI /UX designers, and financial specialists on board, we have proven to be a reliable stock trading software development partner known for delivering robust, high-performing, and user-friendly products. Contact us to find out how you can benefit from our expertise.
By Itexus Team