The importance of digital wallets in the modern environment is undeniable. People across the globe have started shifting from cash to digital payments, and this trend becomes particularly noticeable if we look at today's generation, especially millennials. Young people prefer faster, flexible, and more convenient payment options. The key benefits of digital wallets are contactless payments and purchases, as well as instant money transactions that allow users to send or receive money in a snap.
However, there are some concerns about e-wallet apps. The major one relates to the safety of online payments. Some users may think that making payments online is a threat to their personal account information. Others worry that the device can get lost or their account can get hacked.
To deal with such concerns and misconceptions, companies that consider entering the e-wallet market should choose a digital wallet development company with the utmost care. To help you decide on it, we have shortlisted the best-in-class ewallet development companies. Check them out.
Itexus is a financial app development company that employs vision-forward technologies and integrations to create secure and easy-to-use digital wallets with superior UI/UX designs for businesses and their customers. Itexus engineers have hands-on experience with various types of fintech solutions, including money management apps, online payment software, point-of-sale (PoS) solutions, P2P money transfer apps, local and international mobile money transfer apps, and so on. The company also offers team extension option for those looking for to reinforce their in-house development team. Explore the Itexus' expertise in e-wallet app development to get actionable ideas for your project.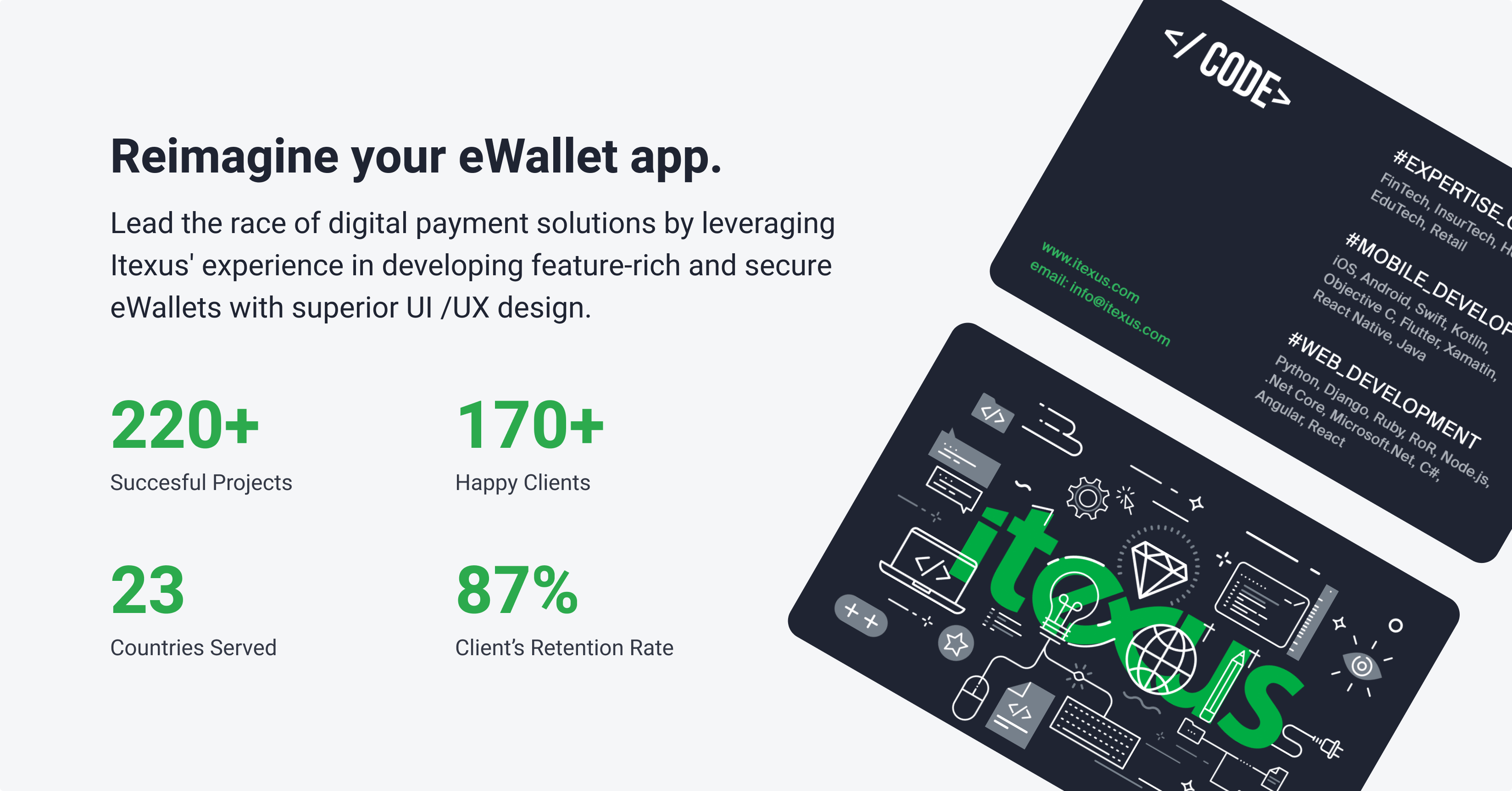 2. SemiDot Infotech
SemiDot Infotech is a software development agency that provides turnkey e-wallet app development services and offers different engagement models. The team uses the latest tools and technologies and strives to deliver best-in-class mobile wallets for businesses of all kinds.
3. Fortunesoft IT Innovations
Fortunesoft is a digital wallet development company that holds expertise in delivering innovative solutions in the fintech domain. Their digital wallet solutions offer next-generation payment systems with multiple features and services available within a single app.
4. Nimble AppGenie
Nimble AppGenie is a one-stop shop for ewallet app development services for Android, iPhone, and wearable devices. Their ewallet development specialists can add a variety of features to your mobile payment app, from third-party online service integration to USSD mobile payments.
5. Fexle
The Fexle team delivers mobile payment solutions for a variety of industries. Solutions can include NFC integration, hybrid mobile wallet services, integration with Bluetooth and iBeacon technology, QR code configuration features, and so on. The company also offers cryptocurrency wallet development.
6. Chetu
Chetu programs custom mobile wallet solutions that allow users to manage digital debit and credit cards, prepaid gift cards, and various cryptocurrencies, and get direct access to bank accounts. The firm can equip your solution with Magnetic Secure Transmission (MST), Near-Field Communication (NFC), Quick Response (QR), and other modern technologies.
7. Octal IT Solution
Octal is constantly scaling its technology stack, so that its customers can expect nothing less than top-tier ewallet app development services. The team does not just implement features, but brings an engaging mobile interaction experience to the screen that allows customers to make payments with ease.
8. AppClues Infotech
AppClues provides digital wallet app development services, delivering secure, user-friendly, and fast solutions for the all devices and platforms, including iPhone, Android, and wearables. The smart digital wallets created by the team of experienced developers fully meet clients' needs and help them achieve their business goals.
9. A3logics
A3logics is a team of proficient developers who build smart e-wallet apps for iOS and Android. The firm is known for their customer-centric appoach and high quality of the software, they carefully handle every aspect during the project implementation and deliver the product only after quality assurance team approval.
10. AppsChopper
AppsChopper delivers custom digital wallet development services aiming to provide best-in-class digital wallets. AppsChopper engineers code advanced apps with cutting-edge features and integrate payment technologies such as NFC, iBeacon & Bluetooth, and QR.
Any questions? Drop us a line.
3 Factors to Consider When Developing an eWallet
When designing an ewallet app, make sure you have considered these three points.
1. Great UI
UI design is all about helping users complete their tasks as easily and efficiently as possible. A user-friendly, intuitive, and engaging user interface (UI) helps keep users coming back to your app and ensures a great user experience (UX). So pay proper attention to UI – your app should be as visually appealing as user-friendly. In terms of ewallet development, a good UI means that it's easy for users to add, remove, and manage credit and debit cards and identification documents within the app.
2. Privacy and Security
Robust privacy and security protocols are a must for a fintech app, as it deals with sensitive user data, so make sure to equip your ewallet with a multi-factor authentication option and encryption. Other measures you can take to ensure top-notch data security include training employees, creating backups, regularly patching security vulnerabilities, and having strict policies in place to protect users' offline data sites.
3. Integration With Wearables
The popularity of wearables has grown exponentially. Therefore, it is important to provide seamless integration of your ewallet app with wearable devices such as smartwatches. Integration with wearables improves the user experience by making transactions much faster and easier for users, as they do not have to take out their smartphone at a PoS station.
How to Choose a Vendor for Custom eWallet Development?
There are some important points to consider when choosing a digital wallet development provider.
✔️ Industry Expertise
Research the company's portfolio, and look for similar fintech solutions they have already implemented. Make sure the team is scalable if needed, and check how its previous projects perform. Examine it all carefully and don't choose the provider if even one pillar of a fruitful collaboration is missing.
✔️ Engagement Models
There is a strong correlation between the quality of the result and the price of the provider's work. Trying to cut costs at the beginning can lead to budget overruns and performance issues. So try to find a middle ground instead of sacrificing quality for a lower budget. For this, choose an appropriate engagement model that meets your specific needs and goals. Different companies offer different options, learn more about all cooperation models to decide which model is right for you.
✔️ Support & Maintenance
Ongoing support, maintenance, and improvement of the existing system are crucial if you want your eWallet to succeed. Find out if the provider offers further maintenance and on what terms, and only then sign the contract.
Money is a touchy subject, and users want to be sure that the payment solution they trust with their finances is highly secured. The reputation of your digital wallet must be impeccable, and it is directly related to the reputation of your chosen software development partner.
Get Your Project Estimate
An estimate of your eWallet idea is the key point when shortlisting software development partners because it indicates how much time and budget is required to develop, test, and launch the app. Getting an estimate is as easy as 1-2-3 – drop us a line, sign the NDA, and we will provide a precise project estimate after a discussion call where all aspects of the development will be touched upon.
By Itexus Team