It is already common knowledge that without an online presence, your business is missing out on a great opportunity. A good website solidifies your business, builds trust, and gives your potential customers the confidence to take the next step with you and make a buying decision.
The challenge for you is to find a company that can create a great website that will help you achieve your goal, whether it's attracting new customers, increasing sales, improving brand awareness, driving traffic to your blog that helps your business grow, all of the above at once. To help you make the right choice, we have researched and compiled a list of top WordPress website development companies. Give it a try!
For 8 years, Itexus has been developing scalable, responsive, and secure websites that help businesses transform digitally, build winning reputations, and grow. With the best WordPress developers and UI/UX designers on board, Itexus designs and builds WP websites from scratch, improves the performance of existing websites, redesigns and updates outdated websites, and provides post-production support and maintenance services.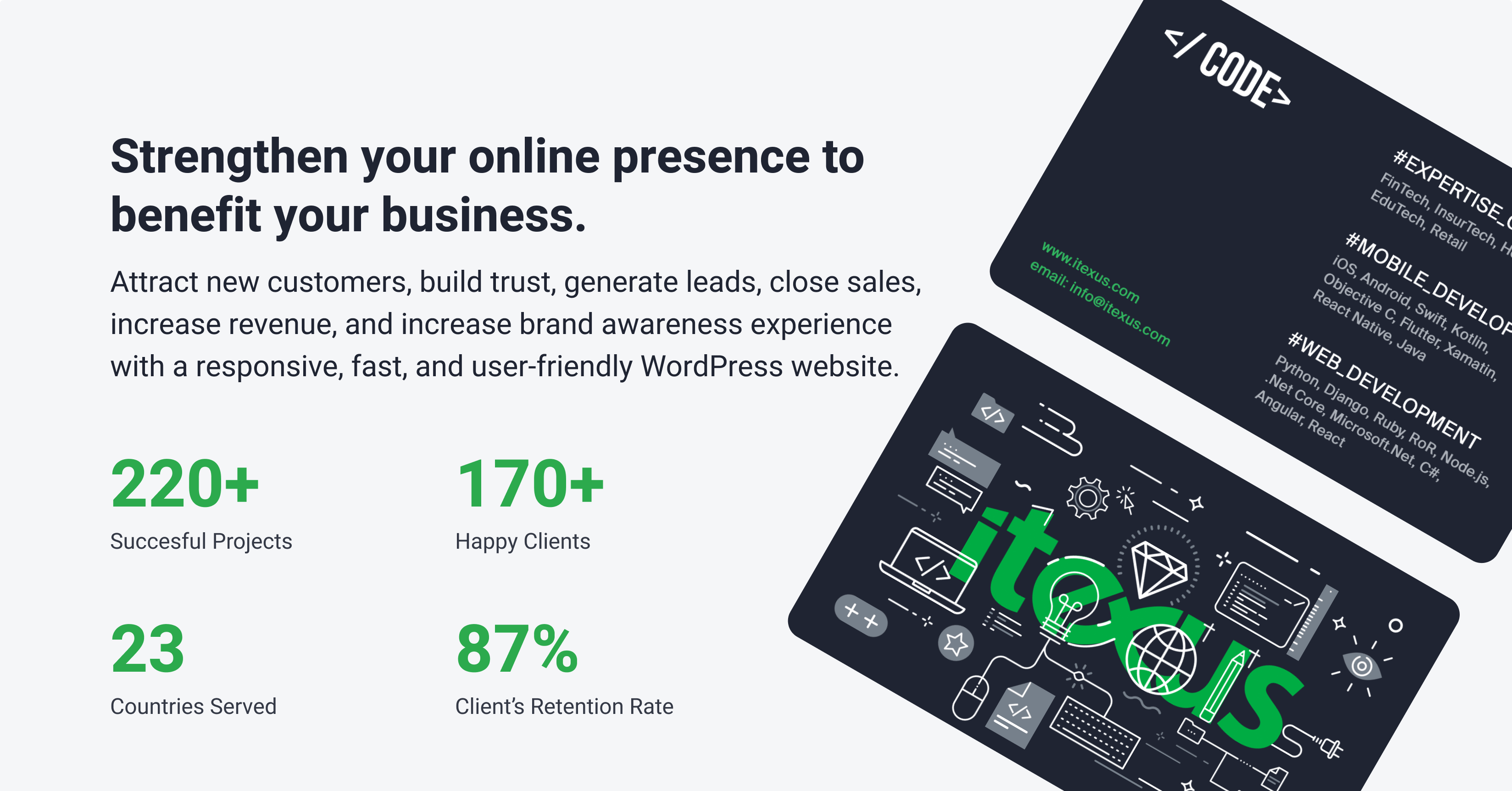 2. Goji Labs
Goji Labs develops custom software and functional WordPress websites for nonprofits, startups, and established businesses. They help businesses and organizations to build brands, scale impact, and grow audiences with beautiful and scalable websites tailor-made to end-users and optimized for clients' goals.
3. Wanted for Nothing
Wanted for Nothing is a WordPress website development company that focuses on UX /UI design, web development, custom web applications, and e-commerce platforms. Their mission is to design and develop strategic solutions for startup and enterprise clients.
4. CemtrexLabs
CemtrexLabs specializes in supporting brands through digital transformation. Their design and WordPress development services range from simple WordPress design to enterprise-level website creation.
5. EIGHT25MEDIA
EIGHT25MEDIA uses a strategic approach to WordPress web design. Their service capabilities include strategic consulting, WordPress web design and development, and digital marketing and branding.
6. Develtio
The Develtio team provides the best WordPress CMS development services and ensures that the business needs of the clients are met. The team has a considerable track record, having developed WordPress websites and plugins for over 150 clients.
7. Multidots
Multidots are seasoned in WordPress design and development, so their services help content publishers and digital agencies maximize their performance. With the team's strategic partnership model, they have proven to be reliable, affordable, and top-notch outsourcing partners for clients.
8. Osom Studio
Osom's strength lies in developing WordPress-based websites for European and American tech companies. The expert team builds the client's website from scratch and maintains and develops existing websites on a monthly subscription basis.
9. IntellRocket
IntellRocket offers custom WordPress website development and design for the client's requirements. The team is experienced in developing all types of websites – from small, presentational ones for businesses just starting out to online stores integrated with ERP systems or multi-vendor WordPress platforms.
10. White Canvas
The team at White Canvas ensures that every client gets exactly what they need – whether it's a simple lead generation website, a custom WordPress website with an integrated blog, or advanced functionality with membership options.
Any questions? Drop us a line.
Freelance WordPress Developer vs. WordPress Outsourcing Company
It is a common misconception that only one person is needed to develop a website: a developer. The truth is that you can not just hire a WordPress website developer as delivering a high-quality solution requires the involvement of many specialists such as designers, business analysts, developers, SEO specialists, content writers, QA engineers, etc. To ensure that the entire team is on the same page and to establish efficient communication between the team and the client, the development agency provides a project manager.
So, the question of whether you should choose a freelance developer or an outsourcing company is not worth it at all – we definitely recommend going with a company that offers website development services. When choosing a contractor, pay attention to the following factors.
Cost
The final cost of developing a website will depend on your requirements and the hourly rates of the team members involved in your project. On average, it takes about 200-300 hours to develop a CMS-based website – check out our detailed blog post on website development cost breakdown.
Proven track record
Each agency has a portfolio of the best projects they've created, the ability to get a reference from a previous client, and numerous reviews on trusted websites. Make sure the team is scalable and check how their previous projects perform. Research carefully and do not choose the company if something does not add up.
Support and Maintenance
Website development is not the end goal. Constant support, maintenance, and updating of the website are crucial if you want to succeed with your online business. Before signing the contract, find out whether the WordPress agency provides continued services and maintenance after the development.
Summary
Need WordPress development services? We've got you covered! Itexus delivers well-designed, responsive, fast, and user-friendly WordPress websites that boost business performance, increase conversion rates, and improve brand awareness. Contact us for a consultation!
By Itexus Team