Business Website Redesign
Redesign of software vendor's website targeted to increase traffic, generate quality leads, and improve conversion rates.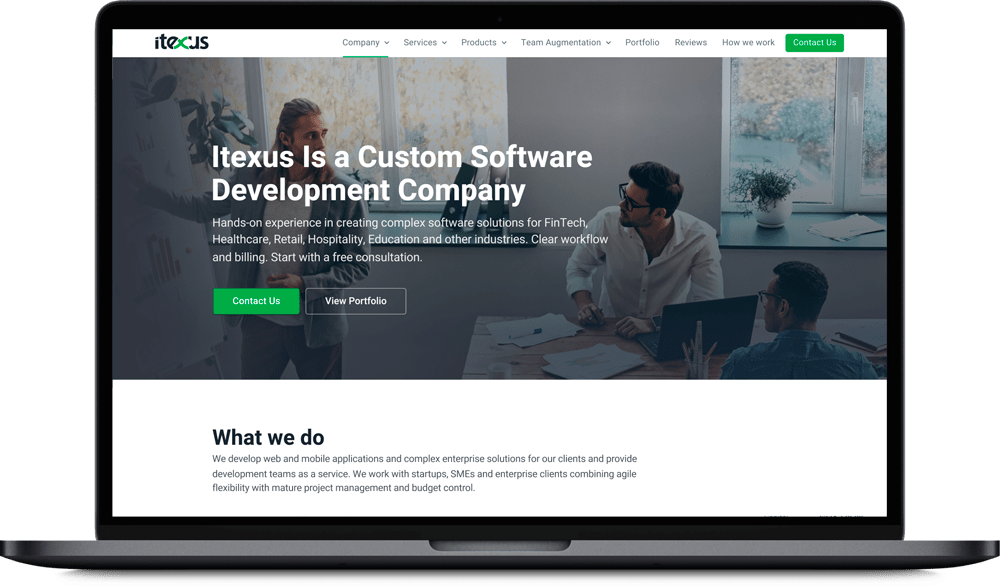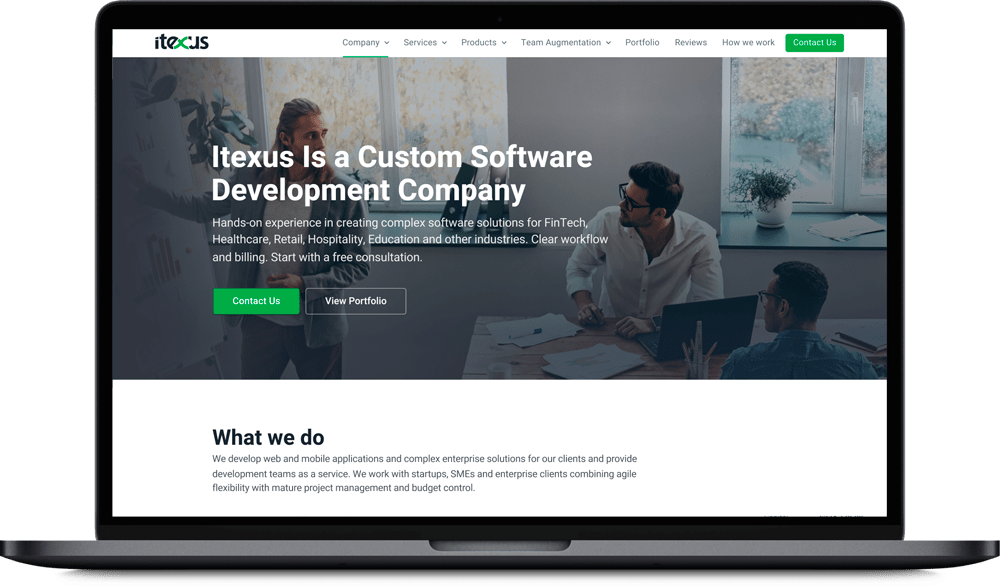 Bill Gates says that if your business is not on the Internet, then your business will be out of business. But is it enough to create a website to succeed on the web? Well, that's not always the case, especially when it comes to representing a software vendor on the Internet. The point is that what your customer sees and feels when looking at your brand on the web determines the future of your relationship.
In this case study, we set an example of giving a boost to the business through reinventing the existing website. Read on to learn how we redesigned the Itexus website, and how the new site helps to attract more traffic, generate quality leads, and create better sales conversions.
Engagement model
Time & Materials
Effort and Duration
3 months
Project Team
1 Designer, 1 Marketing Specialist, 1 Web Developer, 1 Backend Developer, 1 QA, 1 DevOps
Project Background
The Itexus website had been working for several years representing the company on the web. After a while, it became clear that while Itexus was creating top-notch products for the clients, its website, the digital face of the company, stayed mediocre, conservative, and not quite user-friendly.
So it was decided to redesign it and add more content including all the cool projects Itexus is working on. The scope of work included redesigning the site, revising its structure and logic, and improving them as well, so we got down to work.
Target Audience
The company's target audiences are:
startups on all funding stages,
mid-size businesses looking for a reliable software engineering partner,
and enterprises that need their processes automated.
Thus we needed to make the Itexus website equally user-friendly and useful for all segments of the target audience, and so that each visitor gets what they are searching for.
Solution Overview
We restructured the existing site, developed landing pages for different services, domains, and technologies, updated the portfolio, and added the blog. Here is what we've got.
Analytics
To track performance, measure experiments success, and reveal hidden insights, we set analytics on the website.
Google Analytics is used to track all essential marketing metrics including conversion and click-through rate.
Google Tag Manager allows the marketing specialist to integrate analytics tools into the site without involving technical specialists.
Google Search Console helps analyze the site's presence in search results.
The Heatmap tool from the Yandex Metrica service monitors users' behavior on the site and helps optimize CTA triggers and increase user interaction with the site.
User interaction with the chat is monitored via the chat dashboard and Google Analytics Events.
Landing pages for all services, domains, and technologies
We added landing pages for all services we provide and industries we work in, and we're continuing to improve the website content. Itexus SEO specialist is working on each landing page separately for specific requests. Besides, we have automatically connected all case studies with the relevant service pages.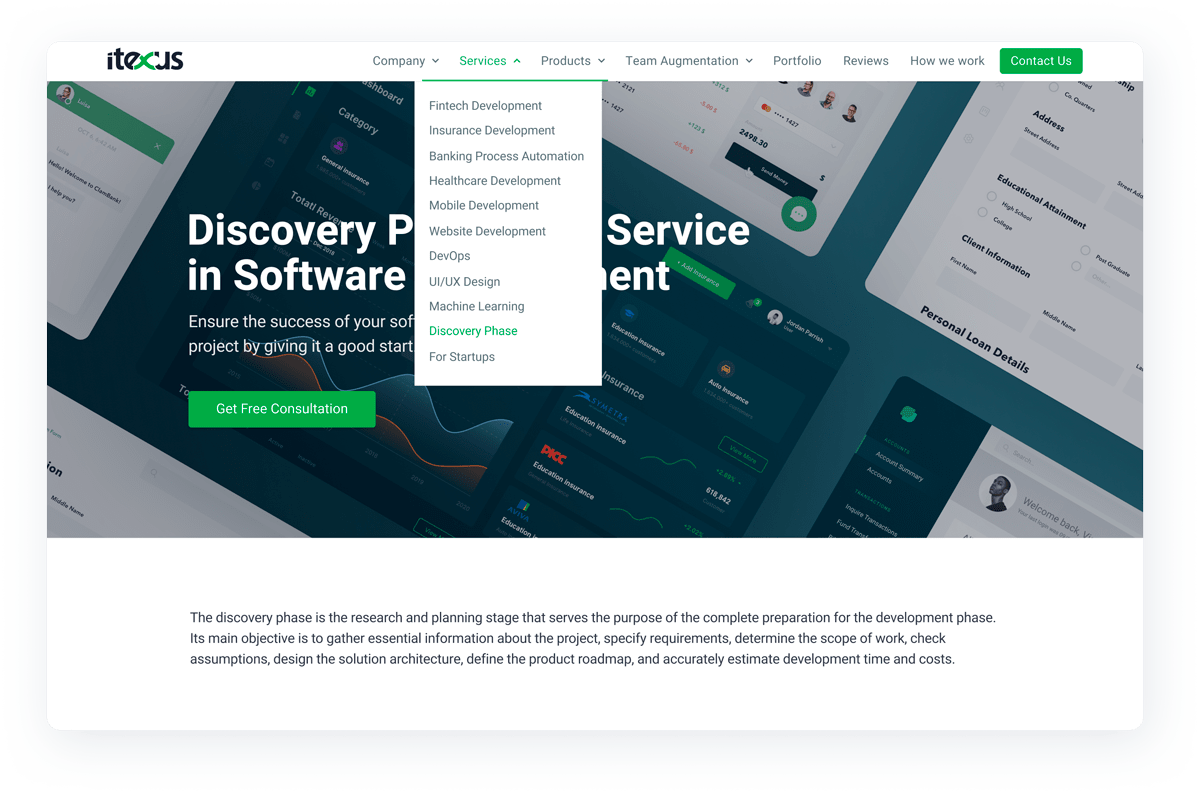 Web Performance
The performance of the site was improved so that users get their pages loaded as quickly as possible. Once every 24 hours, we run autotests to make sure that all pages and contact forms are working properly.
Portfolio
We updated the portfolio with new case studies and continue to update it as new projects are nearing completion or going live. Each case study belongs to a certain domain – fintech, healthcare, banking, etc. We also indicate technologies used for a specific project in a specific domain.
Thus, we have created a clear connection between domains, technologies, and Itexus experience in product development, which allows the visitor to comfortably navigate all projects Itexus completed in specific technologies or domains.
| Metrics | Performance change |
| --- | --- |
| New users | 10% |
| Average session duration | 7% |
| Number of leads | 13% |
| Bounce rate | 12% |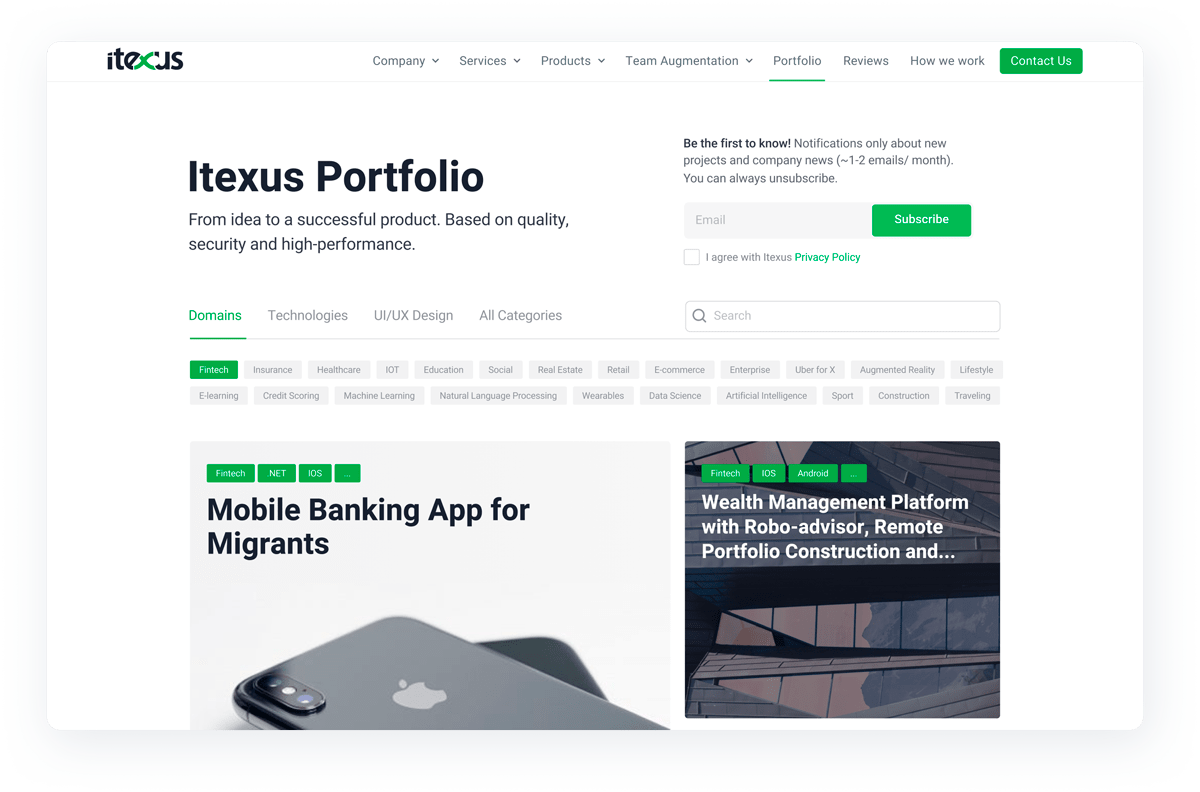 Blog
Itexus actively fills the blog with new articles developed by a team of industry-experience writers together with technical specialists, project managers, and business analysts. Firstly, the blog helps demonstrate the expertise. And secondly, it is a great tool for promoting the website's presence in search engines.
| Metrics | Performance change |
| --- | --- |
| New users | 51% |
| Average session duration | 30% |
| Number of leads | 17% |
| Bounce rate | 26% |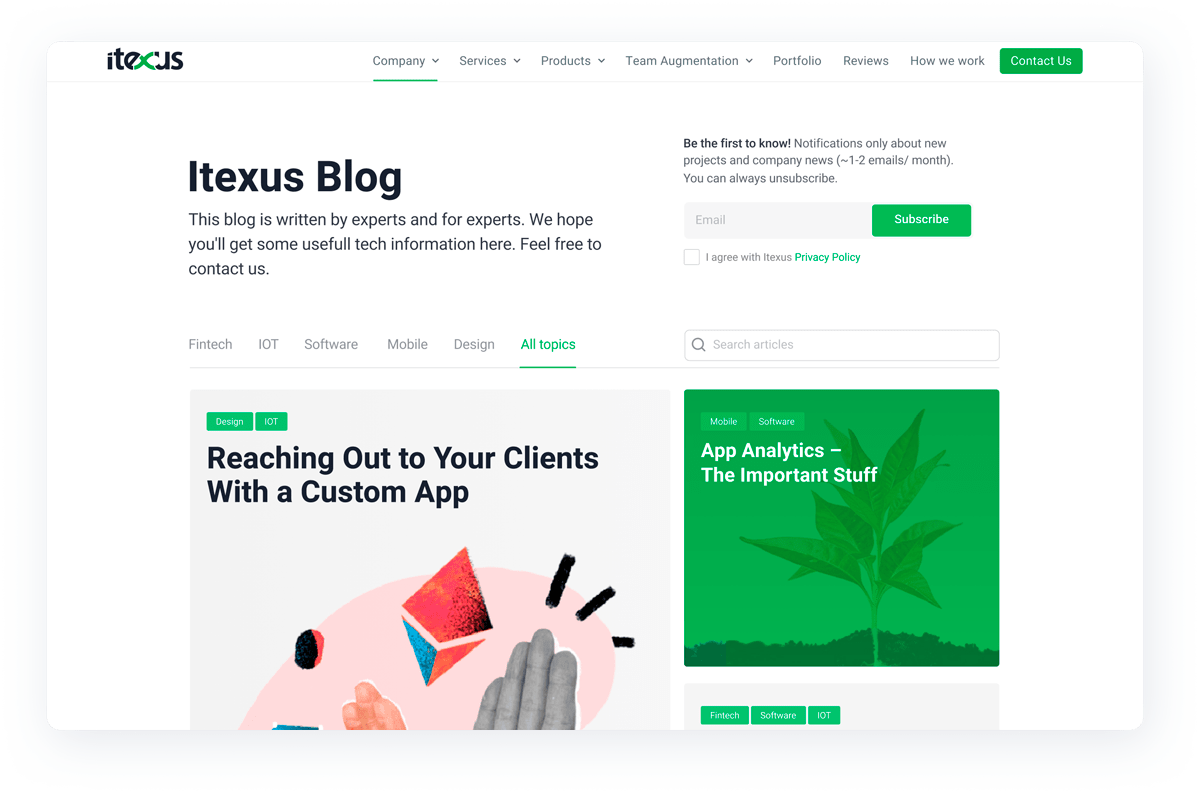 Email Subscription
We improved the email subscription service as well. Now those who are interested in the company's news can receive important updates. Once a month Itexus sends out a news digest to share a list of new blog articles and projects.
We also set a filter that distributes subscribers based on their preferences so they get only relevant news.
It helps the customers stay tuned and allows Itexus to track what mailing techniques work best for certain purposes and create winning mailing strategies.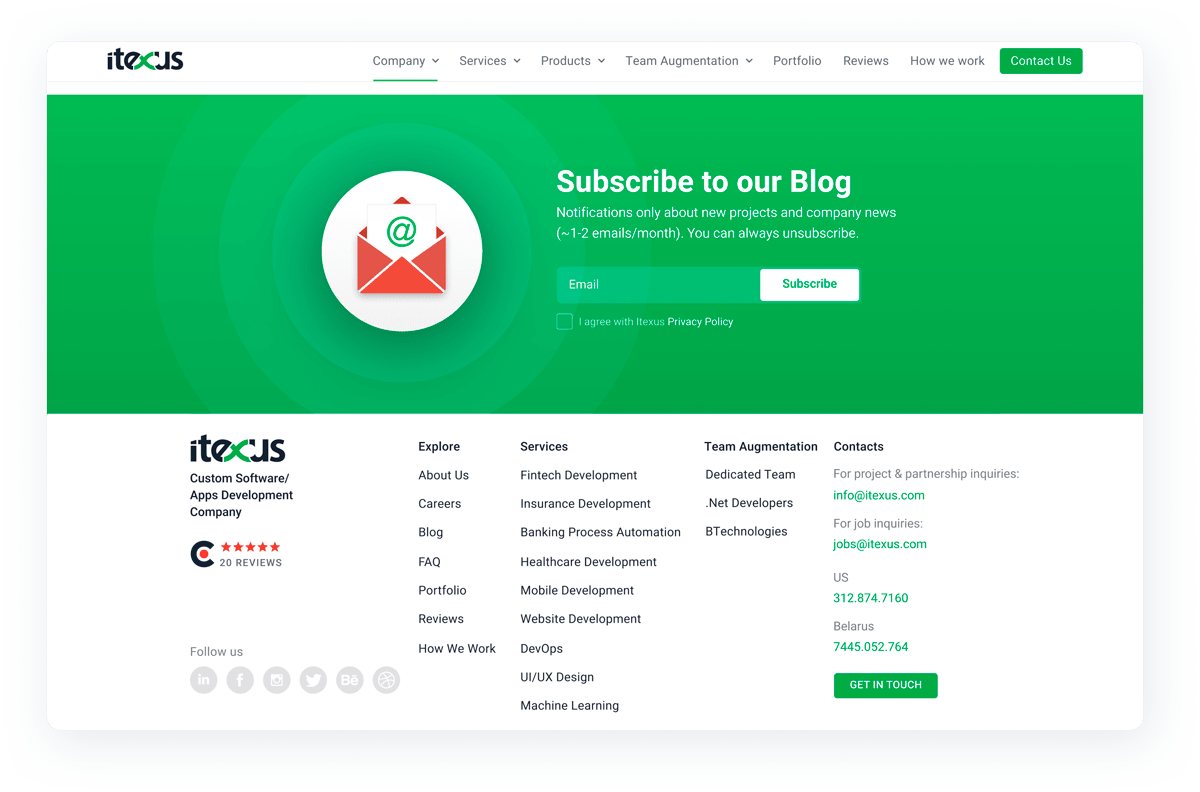 Contact Forms
We have developed a custom contact form that does not allow spam to pass through. At the same time, we do not use captchas as they bog down the website's performance. The contact form enables Itexus to collect the data for marketing activities.
| Metrics | Performance change |
| --- | --- |
| Spam queries | 90% |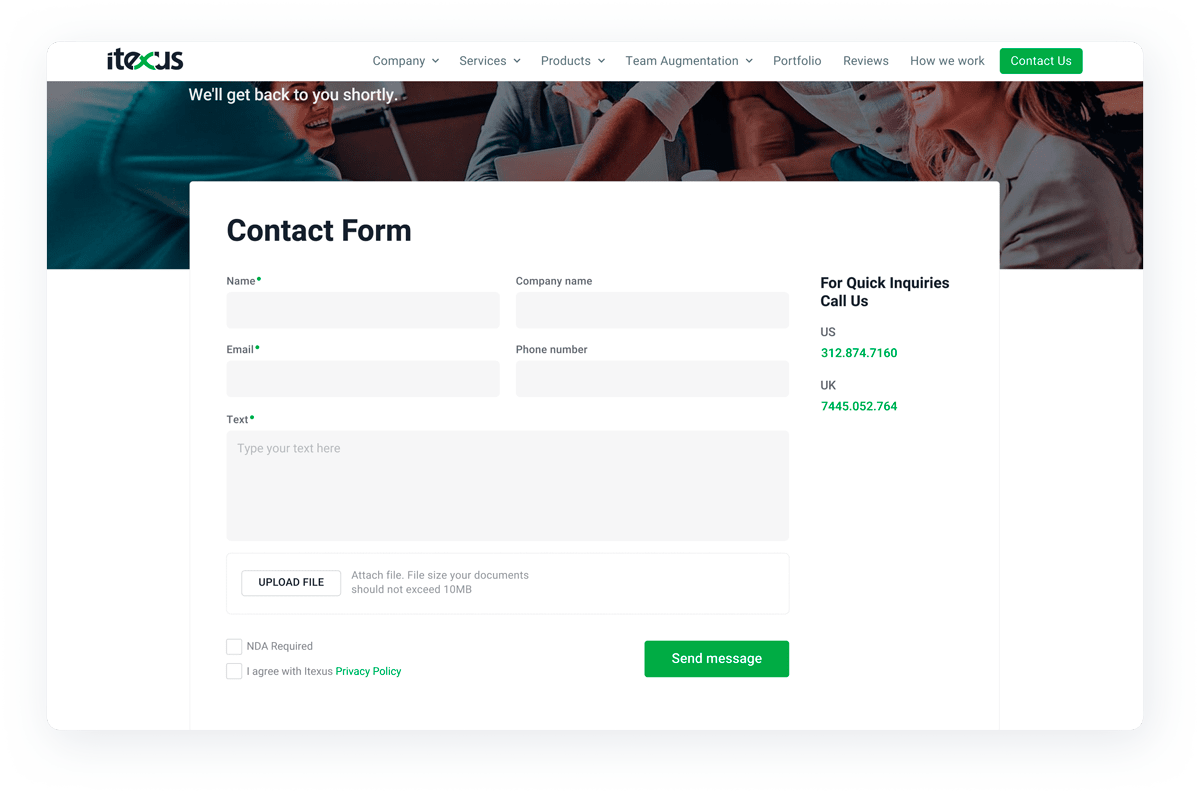 Chat
For greater user engagement with the site, we also added a chat where clients can communicate with the business developer manager. For this, we integrated Tawk.to chat which helps Itexus stay in touch with the site's visitors and deliver a better digital experience to them. Later on we are planning to develop a smart chatbot using machine learning to automate the communication and decrease managers' workload.
| Metrics | Performance change |
| --- | --- |
| Number of leads | 10% |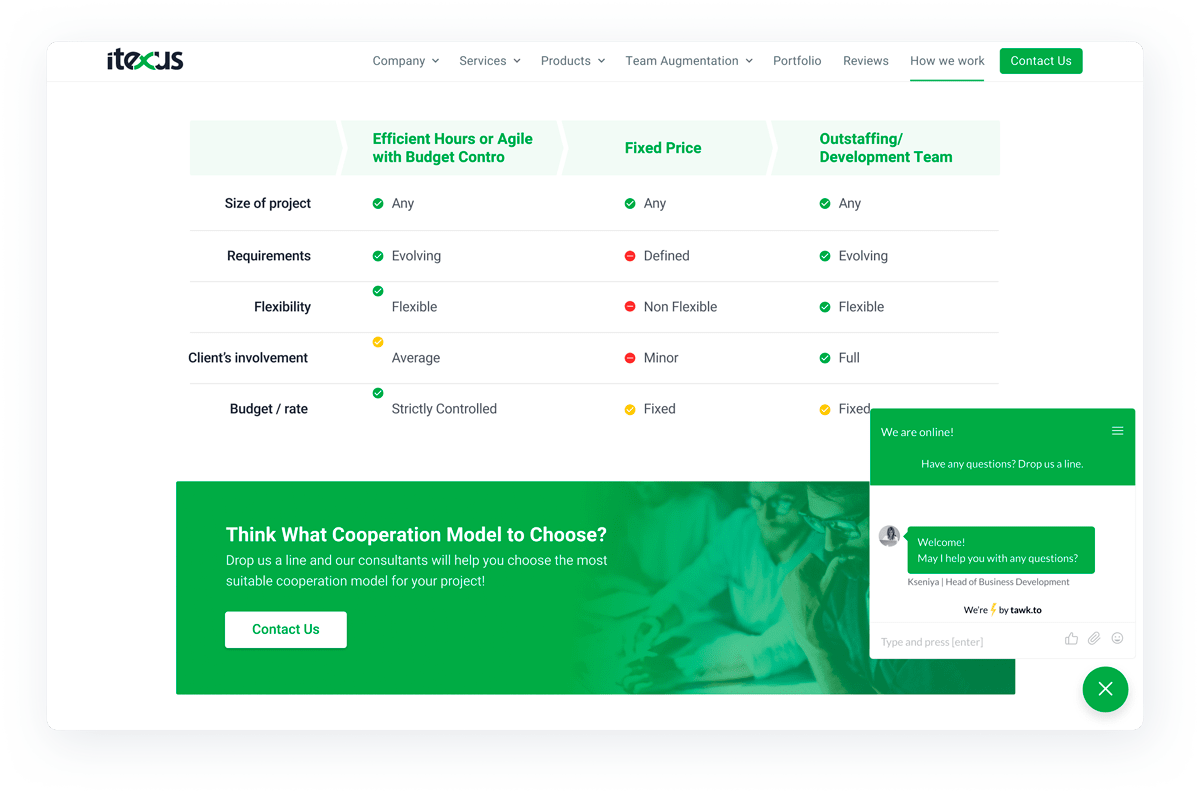 CTA Buttons
Using analytics, we identified drop-off points on the website, and CTA buttons turned out to be one of them. The main buttons were redesigned four times, and we had been testing them on users until we found the option with a good click-through rate.
| Metrics | Performance change |
| --- | --- |
| Website CTR | 3% |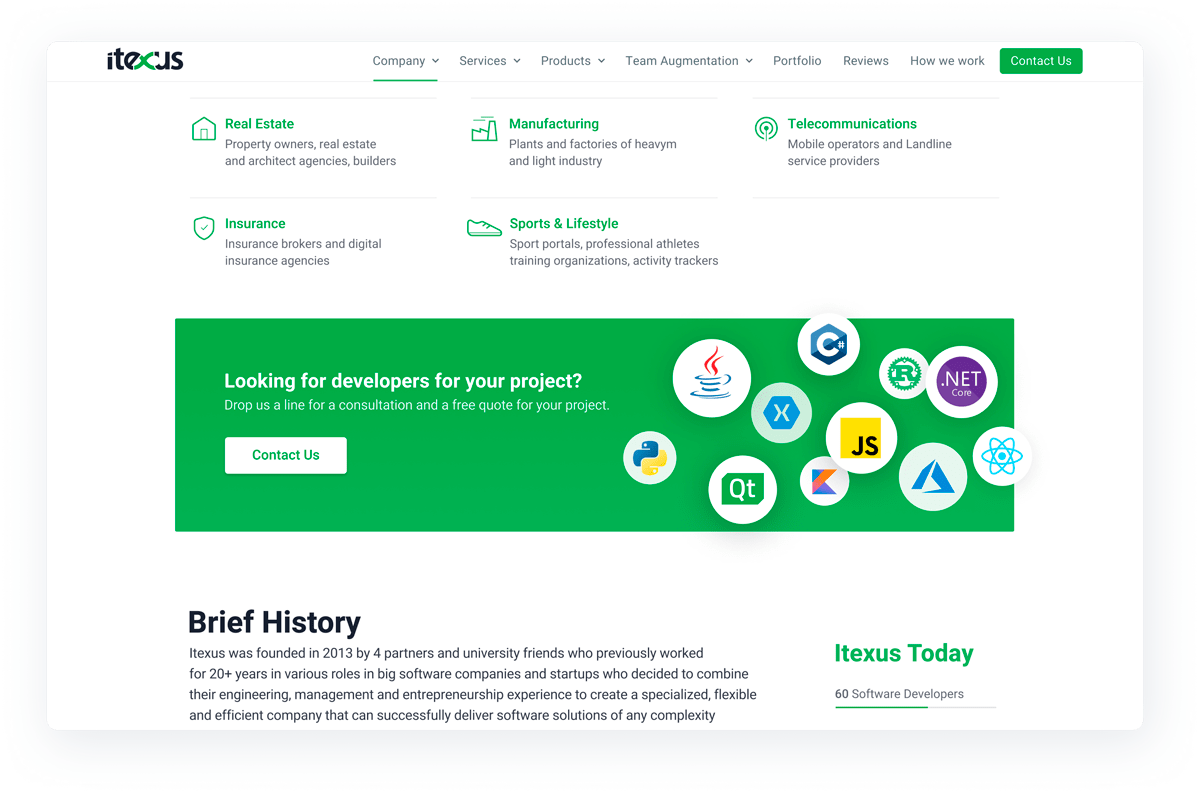 Development Process
The first thing we did was a global website redesign, and it took us 3 months. Along with redesigning, we had been restructuring the site. For this, we identified weak spots and areas for improvement using analytics reports. Based on our discoveries, we reorganized the structure of the pages.
Currently, we are continuing to improve and fine-tune the Itexus website, add new content, and generate and implement ideas on making the site drive even more value to the visitors.
Technical Solution Highlights
The site was built on WordPress, and we carry on this CMS maintenance. Besides, Itexus often uses WordPress for website development projects as it is an adaptable and highly customizable CMS that provides lots of ready-made solutions for integrations with different systems.
We structured the pages layouts and their content using HTML and CSS. The server-side is built with PHP, and the client-side is written in JavaScript.
Results & Future Plans
At the end of 2019, we started redesigning the Itexus website. Since then, we have achieved significant results, and there are constant positive dynamics.
| Metrics | Performance change |
| --- | --- |
| Conversion rate | 2.98% |
| Number of leads | 75% |
| Traffic | 38% |
| New users | 82% |
| Average session duration | 120% |
| Bounce rate | 50% |
The Itexus marketing department continues tracking all essential metrics and looks for spots for improvement, so we keep refining and polishing up the site. Along with this, the company implements a multi-channel digital marketing strategy. All this helps clients to discover and choose Itexus to get their ideas realized.
Need to redesign your website or create one from scratch? We've got your back. Drop us a line to discuss your ideas.
Contact Form
Drop us a line and we'll get back to you shortly.
For Quick Inquiries
Offices
Poland
Żurawia 6/12/lok 766, 00-503 Warszawa, Poland