Conversion Rate Optimization for Business Website
СR-improved website for a European recruitment agency.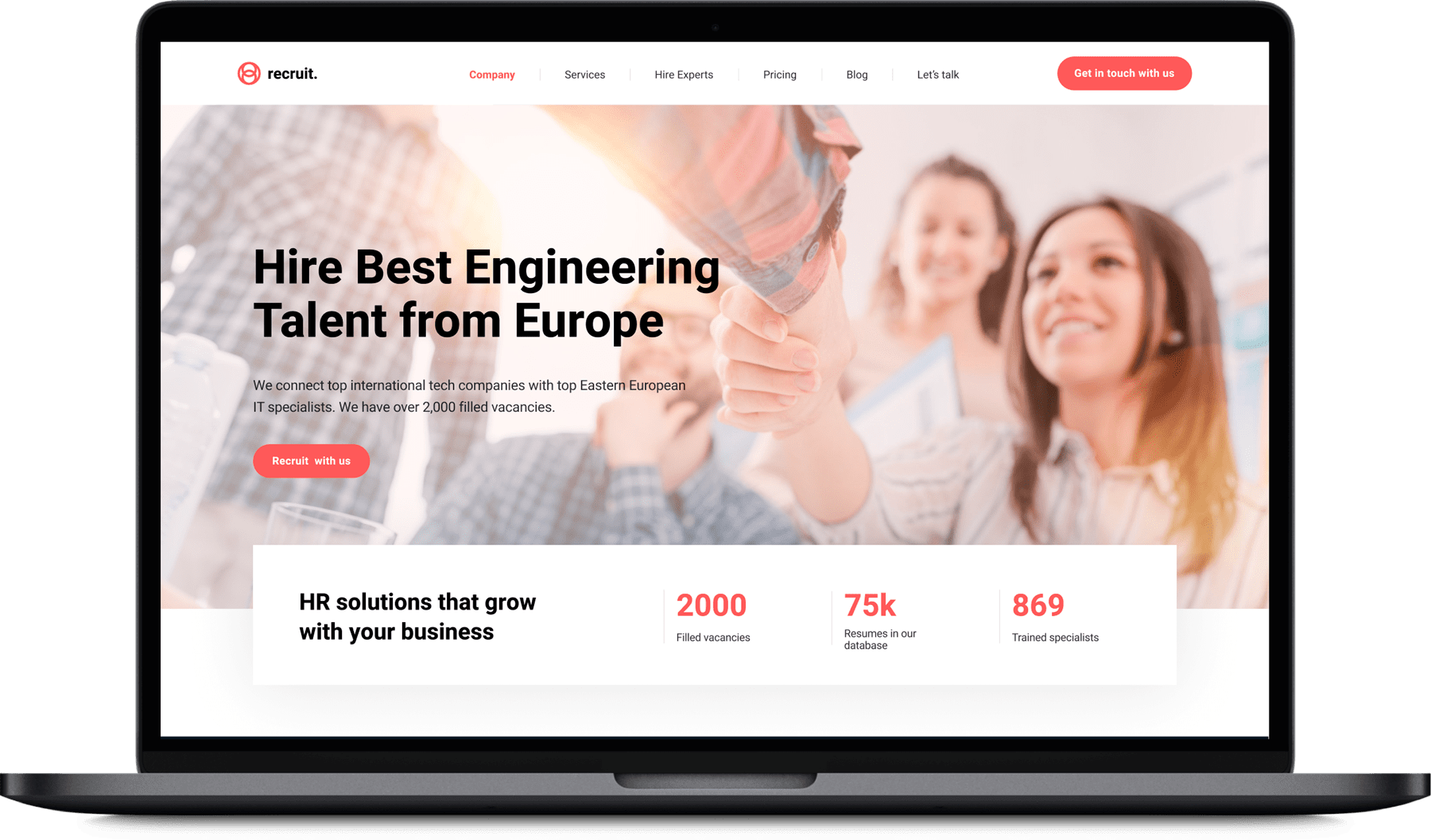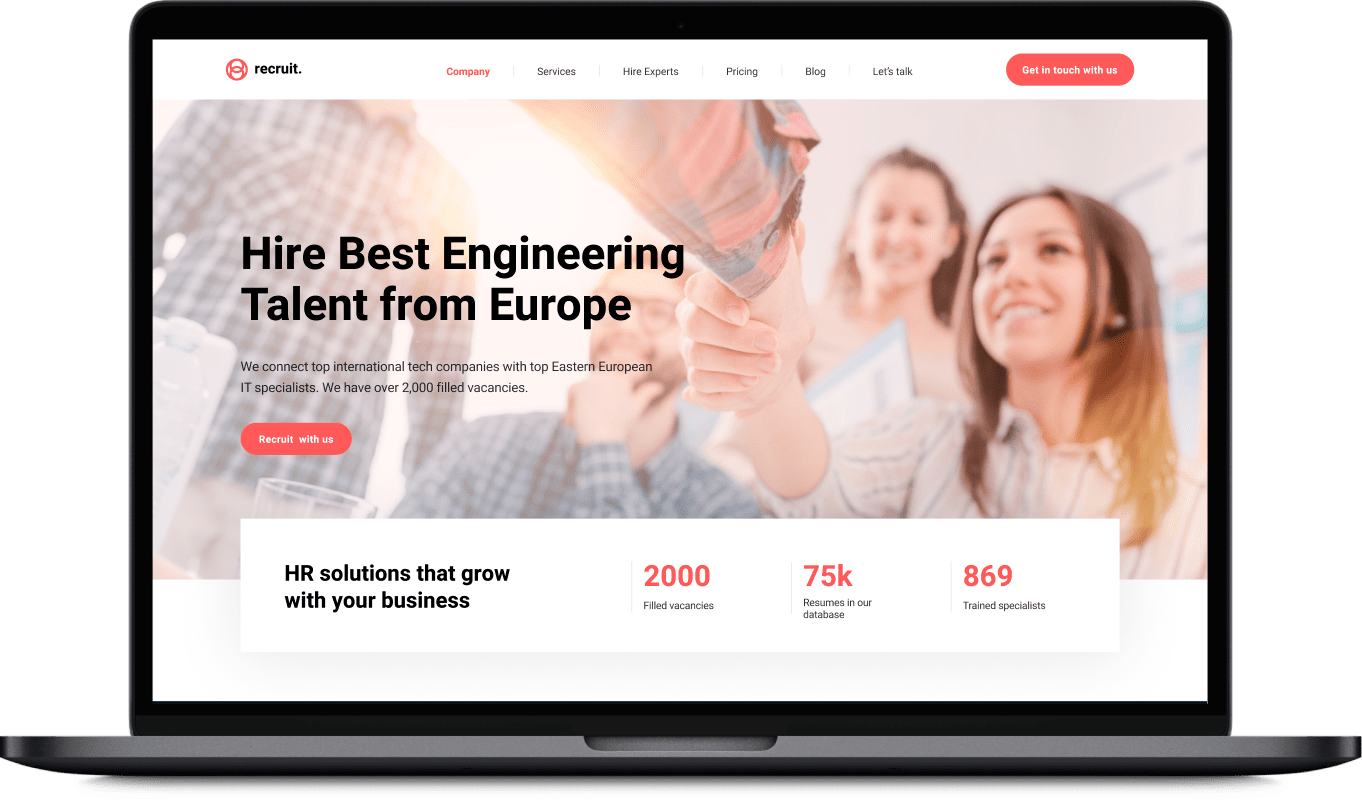 About the client
The client is a European recruitment agency. With over 6 years of experience in international recruitment, the company has become the partner of leading world-known companies and offered career opportunities to hundreds of professionals of all levels in Europe.
Client's Request
Our client's website is their primary business tool. In early 2020, they redesigned the site supposing that it would help to convert more visitors into leads. But against their expectations, the conversion rate started dropping off so the agency requested Itexus to identify what was the reason and to improve the site CR.
Engagement model
Time & Materials
Effort and Duration
60 hours
Solution
СR-improved website
Project Team
1 Frontend Developer, 1 Backend Developer, 1 DevOps Engineer
Target Audience
The agency provides services to both employers and job seekers. Their target audience are multilingual professionals of all levels looking for a job in Europe, and the companies and startups in financial, IT, engineering, and other industries.
Project challenges
• SE indications dropped
Website redesign caused some loss of leads as changed pages' URLs negatively affected SEO performance. It happened due to incorrect landing pages migration which led to duplicates appearance when the same content was distributed via two URLs.
• Cluttered pages
Cluttered landing pages increase the cognitive load for the visitors, decrease readability, and therefore pull potential leads away.
• Low page loading speed
Slow load time has an adverse impact on user behavior metrics and causes a higher bounce rate. In turn, a high bounce rate negatively affects the website performance in top search engines.
Third-Party Integrations
We set up a CDN to improve content delivery in different geofences.
We set up a CDN to improve content delivery in different geofences.
Project Approach
So here's what we did to improve CR.
Content
First of all, we needed to identify all issues affecting the conversion rate. Exploring the site we faced pushy and aggressive popups offering no value to visitors. So we started optimization by removing this bunch of useless advertisements and replacing them with one popup with a relevant offer. These measures have resulted in a lower bounce rate – 31% against 68%.
SEO
Then our specialist ran an SEO audit. It revealed page duplicates so we applied 301 redirects to minimize the loss in ranking. Based on the audit results, considerable work had been undertaken by our SEO expert to make the necessary changes to improve website performance in search engines.
DevOps
The next step was to improve the site performance to prevent lead loss due to slow load time. For this, our DevOps team implemented CDN (content delivery network) and configured servers to optimize the processing of server-side requests. As a result, we got faster page load and content delivery.
Customer-centric approach
The specifics of our client's business is that the human is in the center of all processes. So it was an obvious step to increase conversions by applying a customer-centric approach. For this, our client's research team conducted a series of interviews with their most loyal customers. It enabled us to identify customers' most important yet unobvious needs and pain points and to significantly improve customer experience.
CTA
We tested multiple call-to-action button designs until the perfect CTA was found. Then we A/B tested its position and finally came up with the prominent one.
Live chat
Adding live chat to the website helped the agency to deliver superior service to prospects and customers – a better customer experience means better conversion. To get the most out of the chat, we tested its location and chose the best one based on the test results.
Shorter landing pages
We shortened the cluttered landing pages and placed the content based on semantic elements. It resulted in more clear and visually appealing pages and helped to increase the sign-ups by over 16%.
Results & Future Plans
After the optimization, our client's website conversion rate increased from 3.2% to 11.7%, and the bounce rate decreased to 29% against 68%.
The agency doesn't intend to stop here and is going to continue on this track. Together we've drawn up a plan of further improvements and will implement them gradually. Among other things, soon there will be the case studies section in the agency's blog where the most inspiring job seekers' stories will be published.
Need website development services or want to turn an existing website into a sales machine? Itexus can do both! Contact us to discuss how we can improve your website conversion.
Contact Form
Drop us a line and we'll get back to you shortly.
For Quick Inquiries
Offices
Poland
Żurawia 6/12/lok 766, 00-503 Warszawa, Poland