Consumers flock to mobile apps for interactions and all daily needs from social and GPS to streaming and search. No wonder banking on-the-go apps have already become a necessity.
According to SignHouse, the speed with which digital, app-based, and mobile-first banks entice customers is nothing but short of impressive. UK-based Revolut has gone from approximately 1.5 million customers in February 2018 to over 25 million customers in 2022. Take a look at how European mobile-only bank apps downloads have been growing last few years.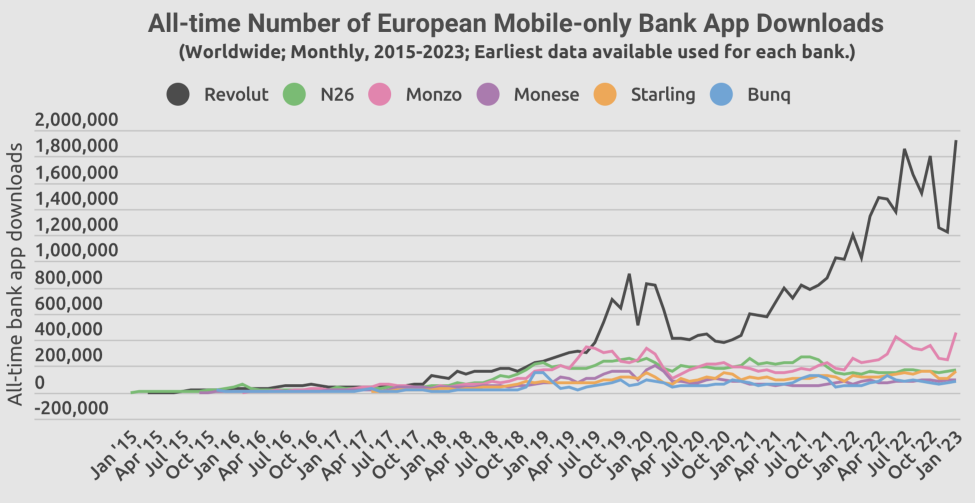 In this article, we'll talk about the importance and benefits of mobile presence in banking, and the range of mobile banking services.
Benefits of the Bank's Digital & Mobile Presence
If you still don't believe that mobile is the name of the game in banking, take a look at these stats:
• 97% of millennials, 91% of Gen Xers, and 79% of baby boomers have indicated that they use mobile banking.
• 82% of bank clients are sure that mobile banking applications can improve their financial state.
• 41% of respondents say that thanks to mobile banking apps they don't need to worry about personal finance management.
Both businesses and private individuals have already acknowledged mobile banking benefits:
Return on investment
Various studies claim that by increasing mobile banking adoption rates, institutions can generate millions in additional revenue and reduce attrition by up to 15%.
• Mobile banking application development is a win-win for financial institutions and business owners. Business owners get the opportunity to manage daily finances, process transactions, and grow businesses quickly. Thus, businesses have more money in their accounts and buy more of their financial institution's products and services.
• Mobile customers stay with banks longer and complete transactions more frequently. The chunk rate(the decrease in the number of customers over a period of time) of mobile banking users is lower compared with branch-only or online users. What's more, immediate access to a user's financial information can influence additional transactions.
Cost efficiency
Mobile banking transactions increase a bank's efficiency by:
• Saving money on printing and delivery
• Helping banks to go paperless and be environmentally friendly
• Reducing the need to hire additional employees
• Offering transactions that are around ten times cheaper than ATM transactions
Enhanced customer experience
Mobile banking apps are designed to provide a positive customer experience:
✔️ Accessibility
Bank customers are able to access their accounts via banking on-the-go app whenever they wish, for 24 hours. It means banks experience an increase in the number of transactions.
✔️ Personalization
It is extremely important for building trust with customers. Banks can create unique experiences for their users, which results in customer satisfaction and increased credibility. Mind that it's necessary to single out the issues you'd like to improve and share them with the chosen mobile banking application development company.
✔️ Convenience
Customers use more bank services that help to optimize their money in all sorts of newer ways. Banks can provide money guidance on how much money their customers can save regularly. U.S. Bank, for example, messages customers when its algorithms see an opportunity to save money, and forecasts when they are at risk of overdrafting an account.
Security
Banking app developers provide enhanced security of assets. Thus increasing bank customers' loyalty. You may use standard security measures like a username and password to log in to a mobile banking app and enroll in added safety steps. For example, get multi-factor authentication where you need several kinds of verification to prove that it's really you. Also, a bank can send a code to your phone for money transfers above a certain amount. Some banking apps let you log in by scanning your face or fingerprint.
Top Mobile Banking Services
Custom mobile banking app development offers a very extensive range of service operations that can be implemented in any mobile banking according to the business needs and goals:
Inquiries
You can make account balance inquiries, account statement inquiries, cheque status inquiries, chequebook requests, recent transaction history requests, and even information requests like interest or exchange rates.
Account control
Mobile banking app as a remote control for your money which lets you deposit a check and send someone money whenever you wish. You can turn your debit or credit card off if it goes missing or is stolen, sees where you have cards stored, where you have subscriptions, and where you potentially have monthly payments that you aren't using.
Quick validation of payments from buyers
Mobile banking eliminates the need of going to your bank or waiting for monthly statements to arrive and verify transactions. All transactions are seen immediately online.
24/7 customer assistance
If you have issues with your business account after business hours, there's no need to wait until the bank is open to speaking to a representative. The customer service help desk is always available online. The options for banking customer service vary, but you can usually call, send an email or click on chat to text a representative.
Transferring and sending money
Mobile banking allows customers to have access to funds at all times. You can transfer funds from one account to another, send funds to vendors through a transfer or provide customer refunds without speaking to a representative in person.
Paying business bills online
Business owners value time and resort to mobile banking to pay their business bills online, including utilities, memberships, and vendor statements. This option saves time spent on writing and mailing checks.
Paying IOUs
Mobile banking apps allow you to pay back a friend or family member in minutes when you are logged into your mobile banking app. You only need to know your recipient's email address or phone number to send them money.
Push and in-app notifications
They make customers aware of relevant offers and discounts and let them know about increased credit limits, low balances, or interest rate information.
Any questions? Drop us a line.
Mobile Banking Development Trends to Follow
Below are the recent tendencies in mobile banking development to view. It helps banks attract more customers and improve the user experience:
Voice payments and voice biometrics
Voice recognition is a real game-changer for the banking industry. Voiceprint technology, aka voice biometrics, allows users to access their accounts only with the help of their voices. The system can recognize the vocal patterns of a user and verify access.
Cybersecurity and fraud detection
Due to Big Data and predictive modeling of fraud, banks, and financial organizations can improve consumers' data security. Banks can generate vast amounts of customer data available from different sources. Historical data gives a 360-degree view of clients, which results in better risk management and higher security.
Chatbots
They deliver benefits at all levels in mobile banking applications. Consumers get an instant response to inquiries and advice on personal finances or everything else. Chatbots can also measure customer satisfaction, providing many tools that offer people to rate their experience with mobile banking chatbots and the app in general.
Cardless withdrawals
People already use app-generated codes (QR codes provided in banking applications) or Apple Pay and Google Pay to withdraw money using near-field communication (NFC). No card is required for both ways.
Paydown apps
Banks have already started to provide user-friendly ways of paying off debts. For example, they offer round-up mobile banking apps that round down your purchase and send the difference to pay the debt or save some money.
Itexus Experience in Mobile Banking Development
Take a look at our recent mobile banking projects.
White-Label Mobile Banking App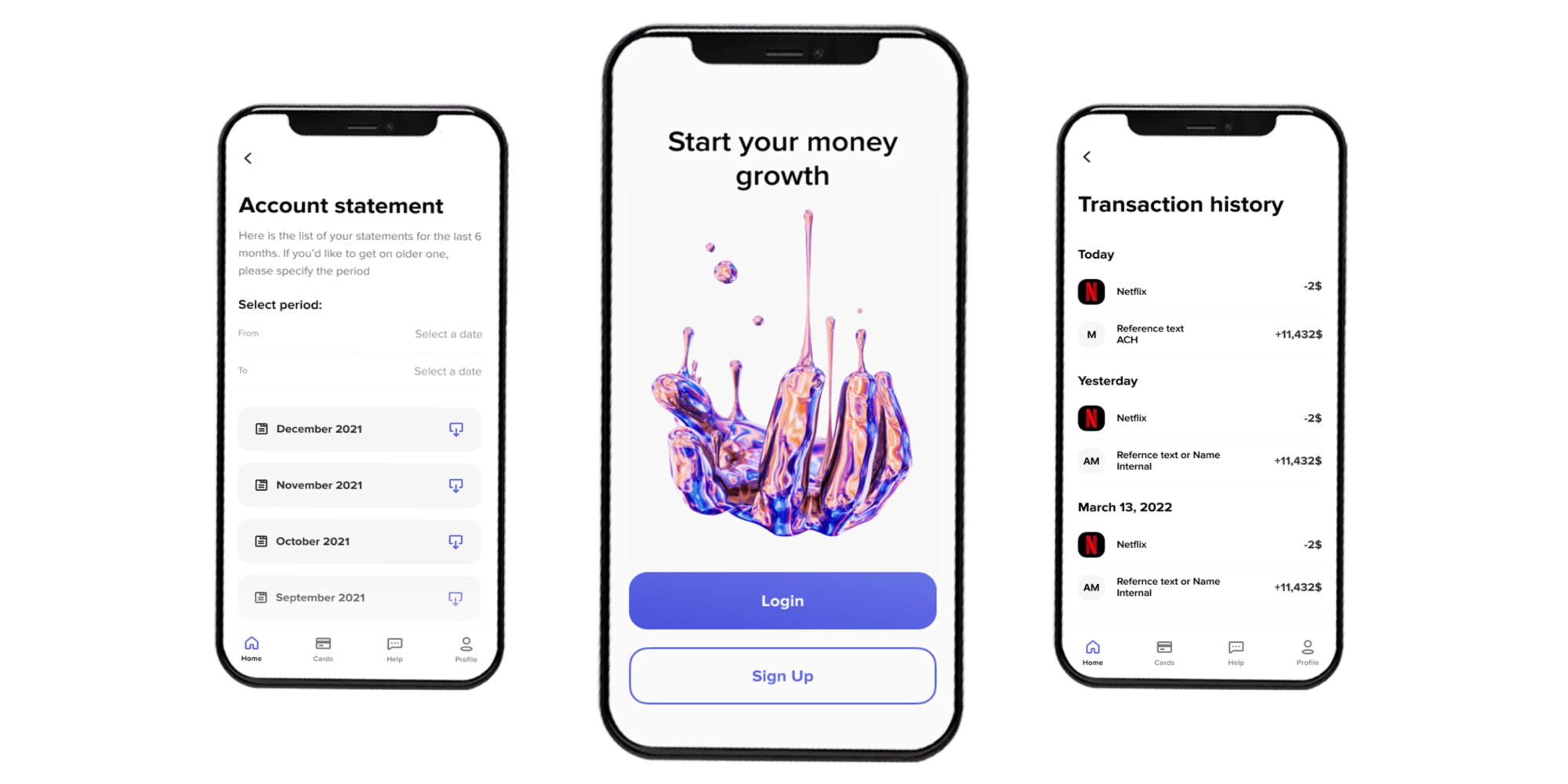 a Silicon Valley-based provider of digital banking services approached us to develop a white-label mobile banking application for credit unions, fintechs, digital banks, and other financial companies in the U.S. market. In four months, our cross-functional team of experts designed, developed, and delivered a customizable and scalable white-label mobile banking app. The application enables the full range of financial services that banks and non-banking financial organizations want to offer to their customers.
To learn more about the project, please read the case study.
Mobile Banking App for Migrants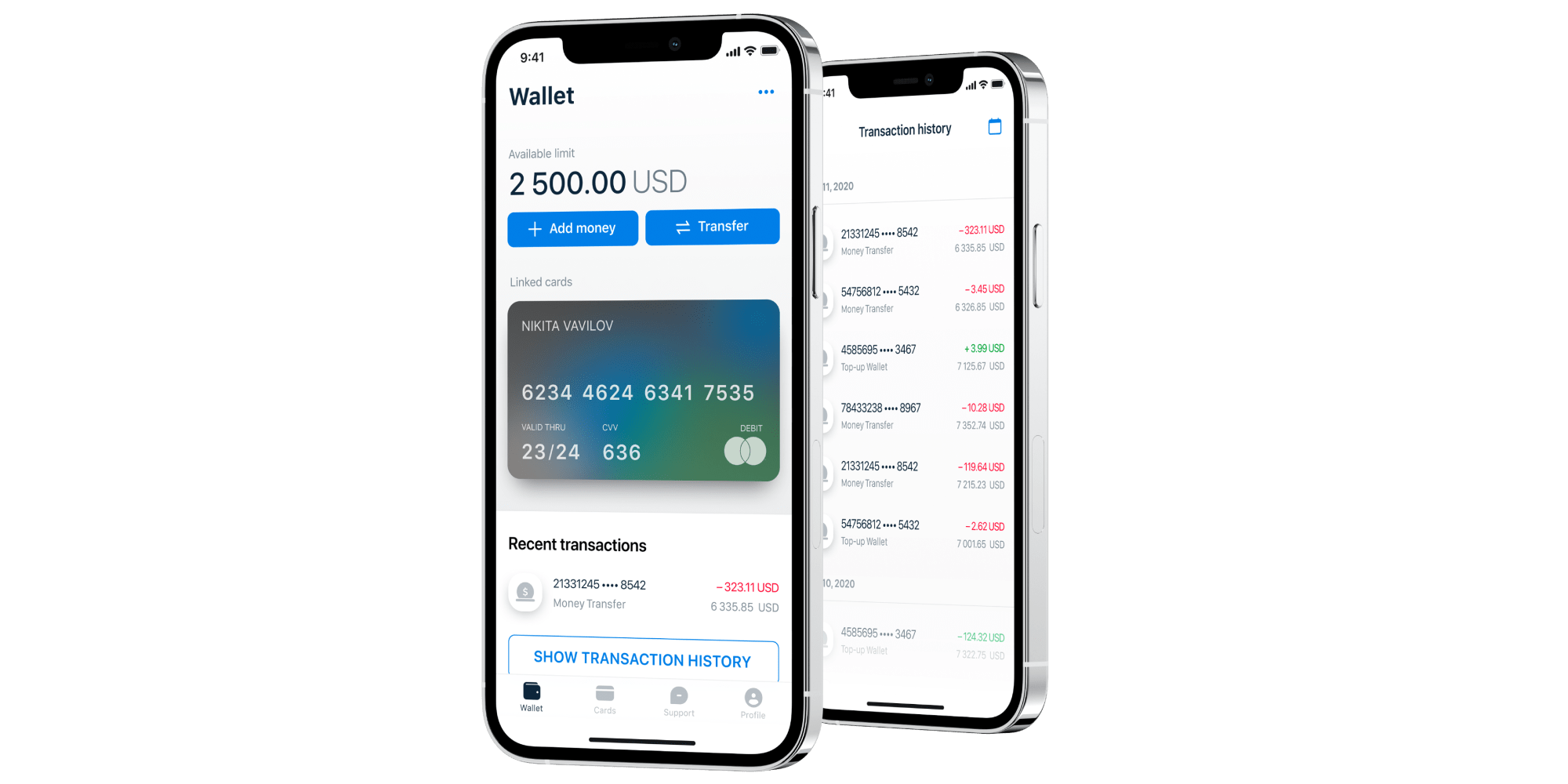 Another client contacted us with an idea for a neobank solution that would serve migrants, who make up a large but unbanked segment of the population. In 13 months, we developed a PCI DSS-certified application that facilitates monetary transactions like sending financial help abroad, getting paychecks early, receiving microloans, etc. The application is integrated with industry-leading third-parties providers including Plaid, Mbanq, Alloy, and others.
To learn more about the project, please read the case study.
Summary
Itexus has been providing mobile banking development services since 2013 and has earned the reputation of a problem-solver. We help financial institutions all over the world grow their business, increase revenue, and attract more customers. We know how to provide added convenience to existing customers and reach unbanked customers in emerging markets. Contact us to learn how we can help you implement mobile banking for your organization.
Mobile Banking App Benefits in Infographic
We've compiled a benefits infographic of a bank's digital presence. Recap to make sure you know how to meet the needs of a new generation of clients.

By Itexus Team