The world of finance is changing rapidly, and mobile banking apps are at the forefront of this transformation. In the age of digitalization, customers expect their banks to offer seamless mobile banking experiences that provide easy access to their finances, personalized recommendations, and seamless transactions.
Mobile banking apps offer numerous benefits to both banks and their customers. For banks, mobile apps provide an additional channel to engage with customers, offer personalized services, and streamline operations. For customers, mobile banking apps provide convenient access to their accounts, enabling them to manage their finances, pay bills, transfer funds, and more, from anywhere, at any time. In fact, according to a study by Statista, the number of online banking users worldwide is expected to reach 2.55 billion by 2024.
The increasing popularity of mobile banking has led to a surge in demand for mobile app developers specializing in banking and finance. This article will introduce you to some top mobile banking app developers to hire today.
At Itexus, the team understands the importance of keeping up with the ever-evolving landscape of fintech and rising competition. Their skilled banking app developers craft custom solutions for financial organizations, including banks, credit unions, fintech startups, wealth management companies, and more.
Itexus delivers software solutions that elevate customer engagement and retention, streamline operational and service costs, improve security, strengthen brand loyalty, and offer valuable insights to enhance the mobile banking experience for customers. The company offers flexible engagement models so you can either outsource the whole project or hire specialists to scale your in-house development team.
Their banking app developers deliver excellently:
Digital banking apps;
Crypto banking;
Neobanking apps;
Custom lending systems;
Expense tracking apps;
Digital wallets;
Money transfer apps.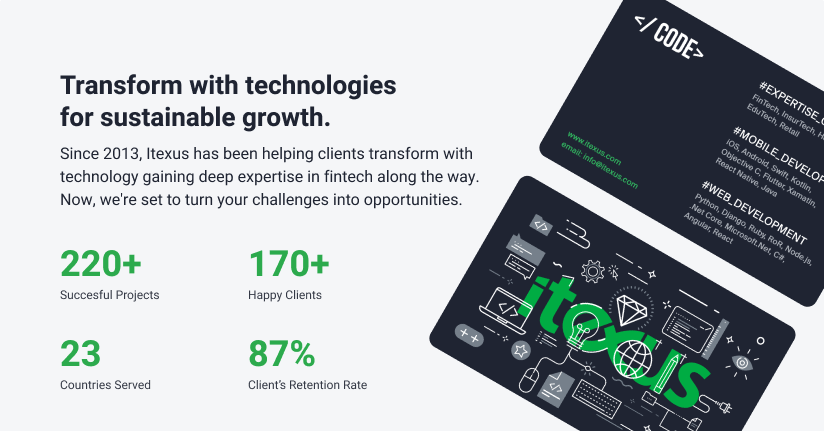 2. Modus Create
Modus Create provides banking software developers with deep expertise in the domain. They offer various services, including app design, development, testing, and maintenance. They have worked with multiple clients, including fintech startups, small and medium-sized businesses, and large enterprises.
3. Kin + Carta
Kin + Carta helps financial services clients achieve sustainable growth by implementing agile business strategies, re-imagining customer experiences, and building and launching new digital products and services. Their banking application developers work with the client's team to create a precise digital investment plan that delivers short-term results and long-term solutions focused on sustainable growth.
4. Supercharge
Supercharge is a mobile app development company that offers banking app developers. They have experience building mobile banking apps that provide a range of features, including account management, bill payment, and fund transfer. In addition to finance, they have worked with clients across various industries, e.g., healthcare, retail, etc.
5. Dotsquares
Dotsquares are mobile banking developers offering various services, including app design, development, and testing. They have experience building mobile banking apps for iOS and Android platforms and consult on mobile banking app development costs, features, and steps.
Any questions? Drop us a line.
6. Elixel
Elixel provides mobile banking software app developers specializing in building mobile apps that offer a seamless user experience. They use a user-centric approach to create solutions that are intuitive, easy to use, and visually appealing.
7. Ceiba Software
Ceiba provides a full range of mobile app development services, including native apps for both iOS and Android, web-based hybrid apps, and native cross-platform apps. Their nearshore mobile banking software developers handle the entire development cycle, from ideation to application stores launch, ensuring the app meets the strictest publishers' guidelines and is visually catching and user-friendly.
8. Finnoconsult GmbH
With the support of Finnoconsult GmbH banking software app developers, your company can create innovative solutions that will delight your customers. Take advantage of Finnoconsult's free comparison tool, Finnoscore, which allows you to compare over 220 banks and 70 insurance companies. In addition, you can participate in their complementary Finnoscore-Workshops to identify opportunities and quick wins for your company. Finally, collaborate with Finnoconsult on innovation projects to create, test, and implement ideas and products quickly and effectively.
9. Robosoft Technologies
Robosoft Technologies offers highly skilled software developers banking with over 25 years of experience. Their team of 1000+ professionals, including designers, developers, and business analysts, specializes in mobile app development, web development, and UX/UI design. With 67% of their employees under 30 and 31% women, Robosoft Technologies is a dynamic and diverse company. They have delivered over 2000 digital solutions across 9 locations and have a proven track record in developing secure, scalable, and user-friendly mobile banking apps.
10. Nventive
Nventive is a digital agency that specializes in creating mobile solutions for businesses. They have a team of banking software developers, UX/UI designers, and cloud solutions experts following the latest mobile banking app design best practices and trends. Their banking application developers work with various industries, including banking and finance, compiling the top solutions from versatile practice.
Itexus Experience in Mobile Banking App Development
Mobile Bank Transfer App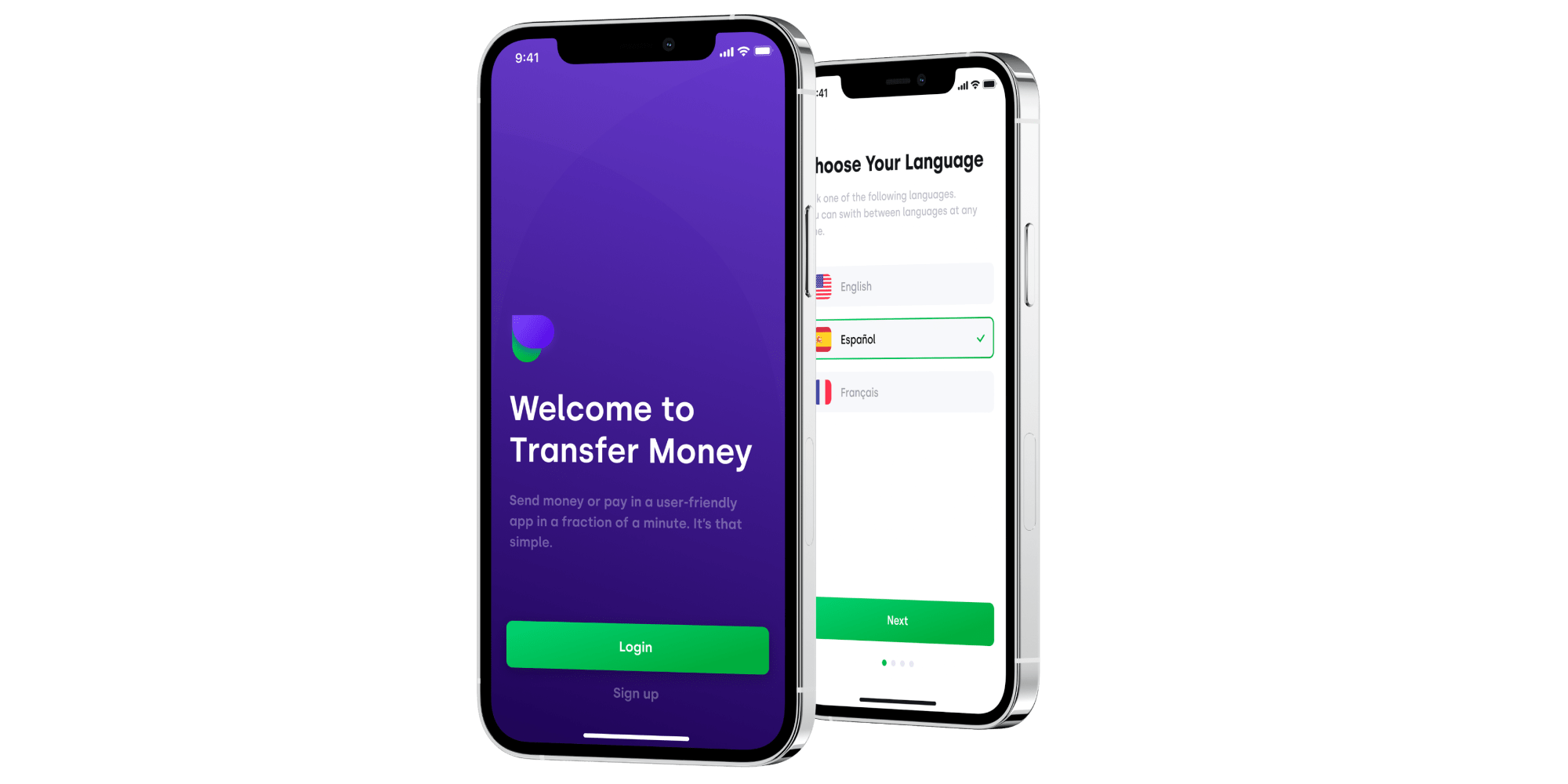 Itexus was approached by a US-based startup that wanted to develop a mobile app-to-bank transfer solution to allow users to send money from US-issued bank cards to Nigerian bank accounts and pay bills internationally. Itexus formed a dedicated team of mobile banking app developers to implement a range of functionalities, including instant money transfers, bill payments, multilingual interfaces, and more. We also integrated payment service providers and a KYC verification system.
To learn more about the project, read the case study.
White-Label Mobile Banking App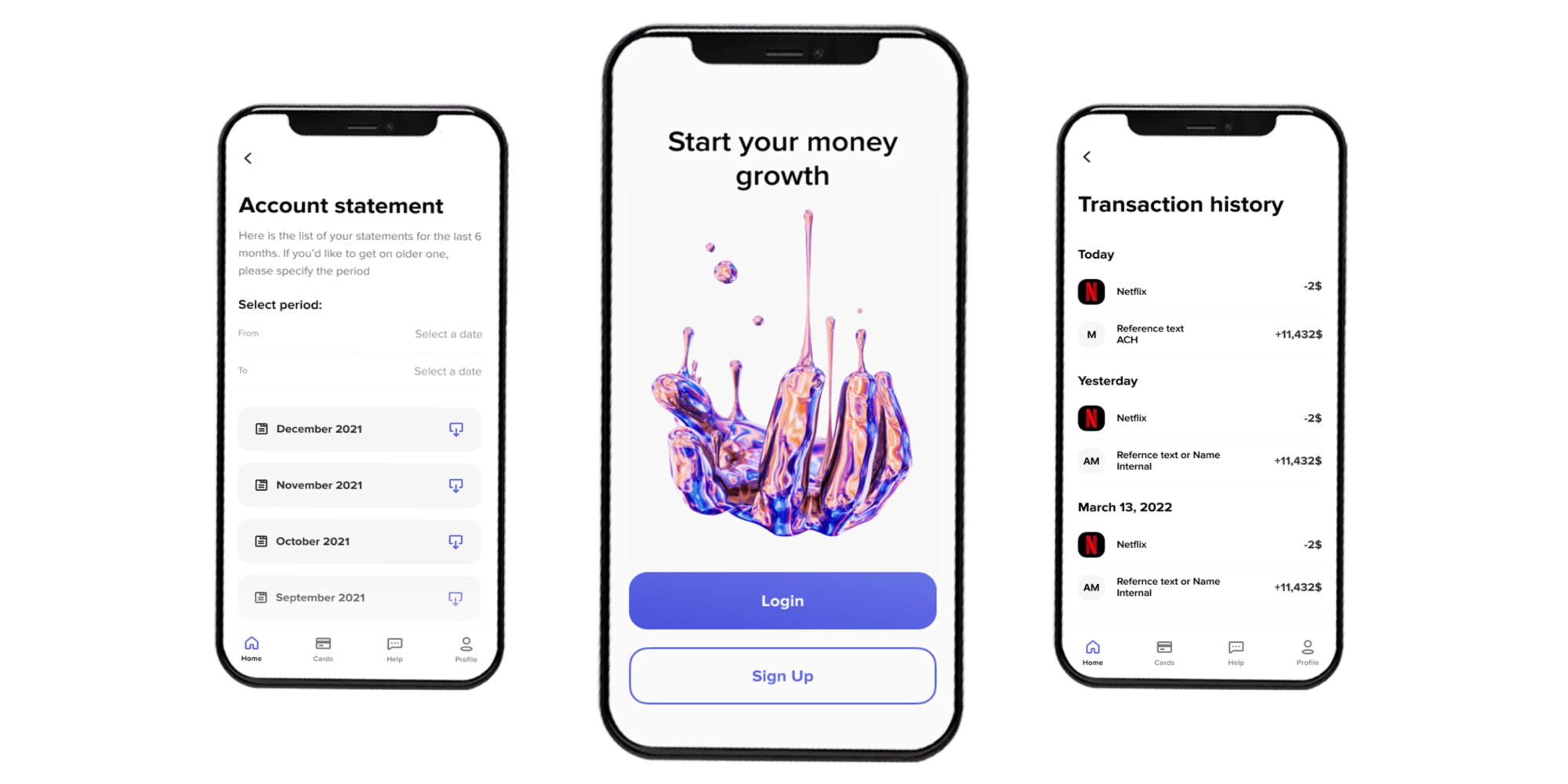 For a Silicon Valley-based digital banking services provider, we developed a white-label mobile banking application. The iOS app enables a full range of financial services that credit unions, fintechs, digital banks, and other financial companies in the U.S. market want to offer their customers.
To learn more about the project, read the case study.
Summary
With the widespread usage of mobile devices, it is crucial for financial service providers to enable a smooth mobile experience for their customers. This is where mobile banking app developers come into play. Reliable and convenient apps speed up banking operations, bring productivity and efficiency, and improve customer experience.
Looking for experienced and skilled banking app developers? We've got you covered! Contact us to select the right specialists with the needed skill set for your project.
By Itexus Team