Telehealth Platform for Patients With Chronic Diseases
A telehealth platform that helps patients with chronic diseases find and connect with appropriate health practitioners for treatment.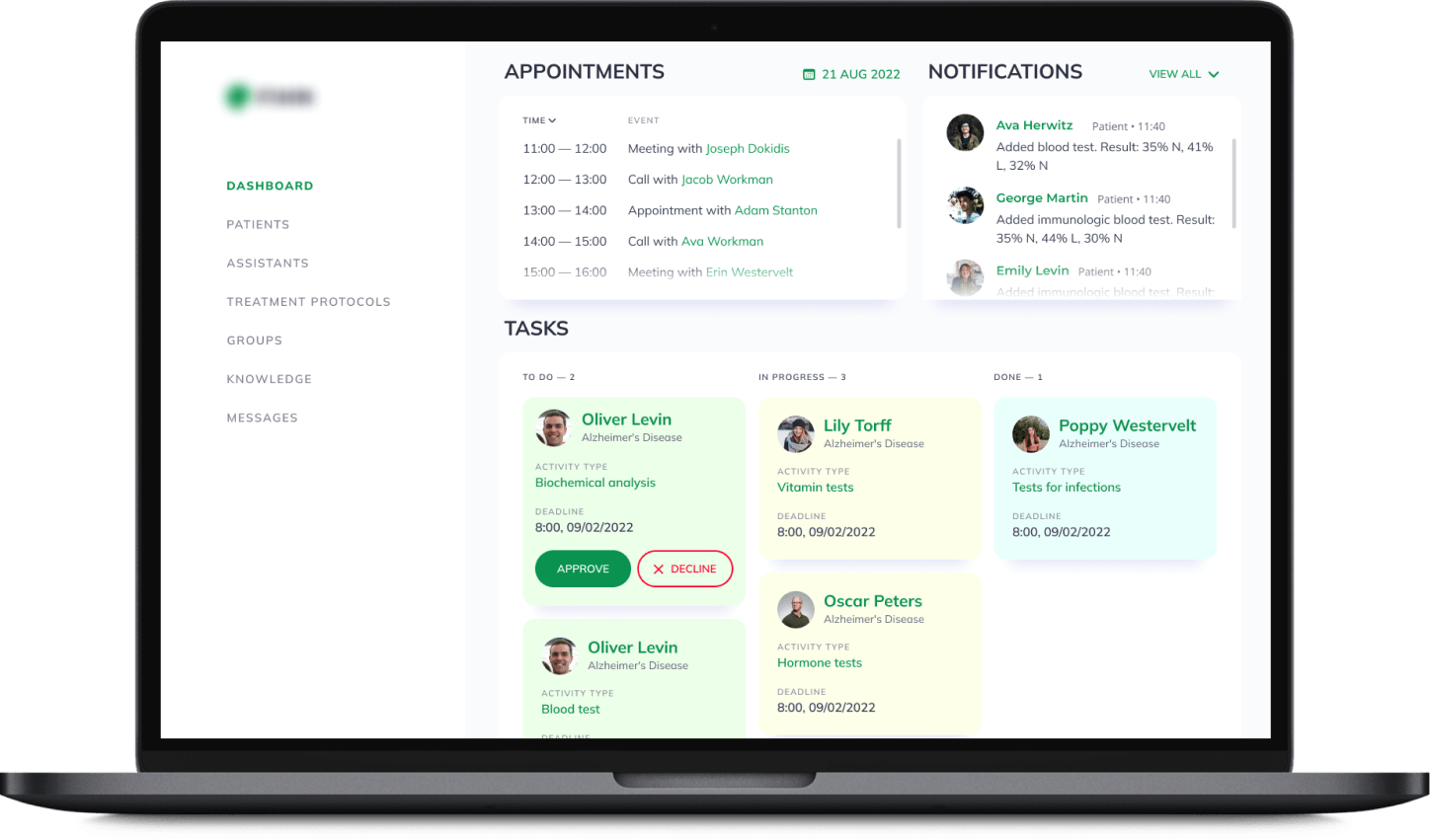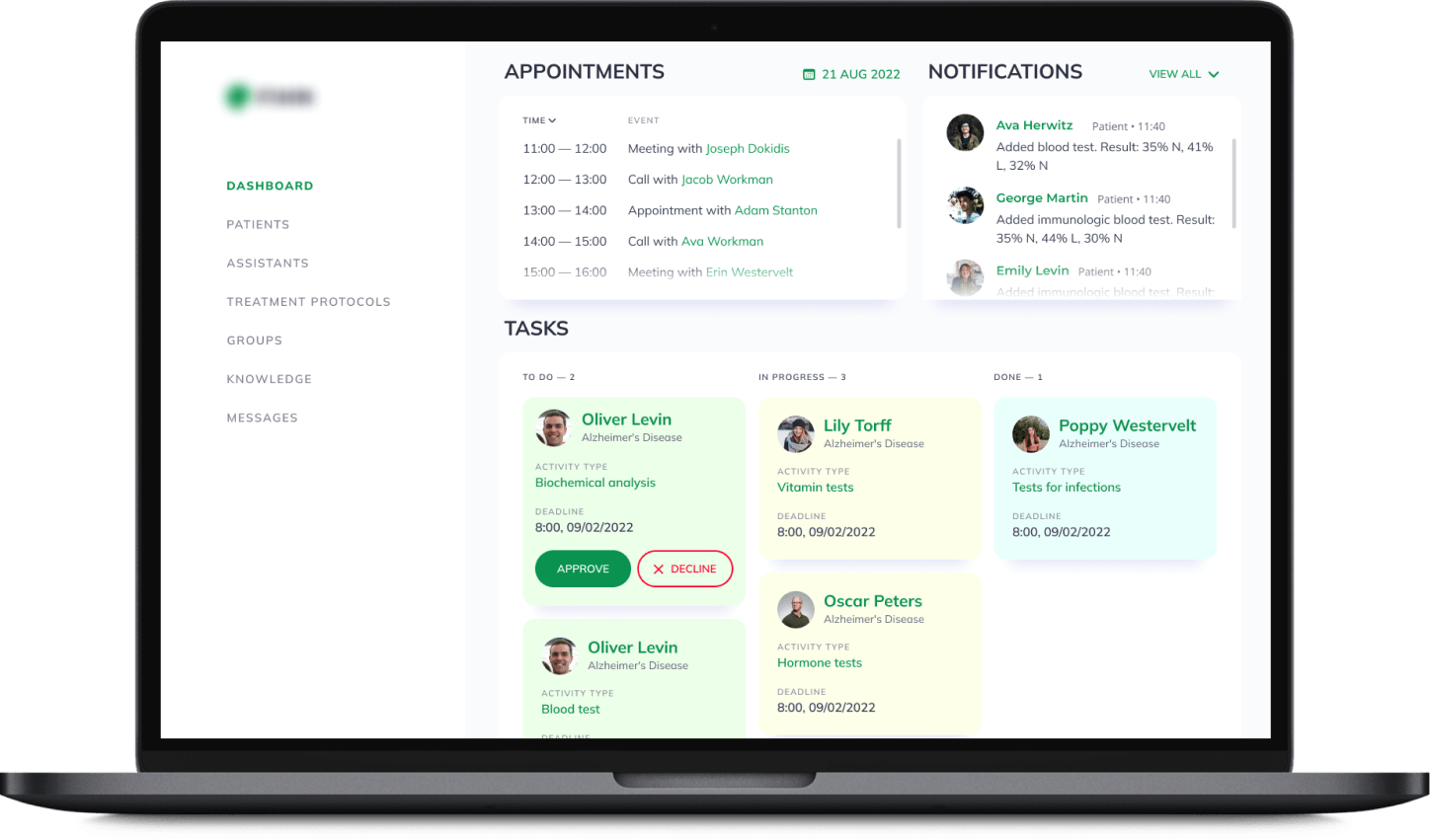 About the client
Our client is a founder of a telehealth startup who faced several challenges in finding treatment options for his relative with a chronic disease.
Solution
Clickable prototype, discovery phase deliverables
Effort and duration
8 months
Engagement model
Time & Material
Project team
1 Business Analyst, 1 UX/UI Designer, 1 Tech Lead, 1 Project Coordinator
Project background
The slowly changing condition of the patient, which is typical of chronic diseases, makes it difficult to recognize the short-term changes in the patient's state of health. However, it's important to track key health indicators day by day to adequately assess the effectiveness of treatment protocols and methods. For some patients and their caregivers, it's often difficult to obtain reliable and trustworthy information about different treatment options for their conditions and to find appropriate health practitioners.
As mentioned earlier, our client's family member has a chronic disease. In seeking treatment options for them, our client faced numerous challenges – from difficulties in monitoring key health indicators to accessing information and alternative treatment protocols and finding appropriate health practitioners. As a result, our client came up with an idea for a telehealth platform that would help patients and their caregivers overcome the above challenges. To this end, he turned to Itexus to conduct a discovery phase, create a prototype, and prepare all the necessary materials to raise investments for project implementation.
Target audience
The platform is aimed at patients from European countries and their caregivers, health practitioners and their assistants, as well as healthcare organizations (e.g., clinics, private hospitals, consultancies, etc.).
Project challenges
The client's preferred methods of communication were emails and phone calls, so it was difficult to ensure that key project stakeholders were constantly updated on project goals and updates. So the biggest challenge was to establish efficient communication processes.
It was also a major challenge to find a balance between user experience and completeness of information – on the one hand, patients need to provide information about their condition in as much detail as possible, but on the other hand, the user interface shouldn't be overloaded with text and the information should be presented in an easily digestible and understandable way.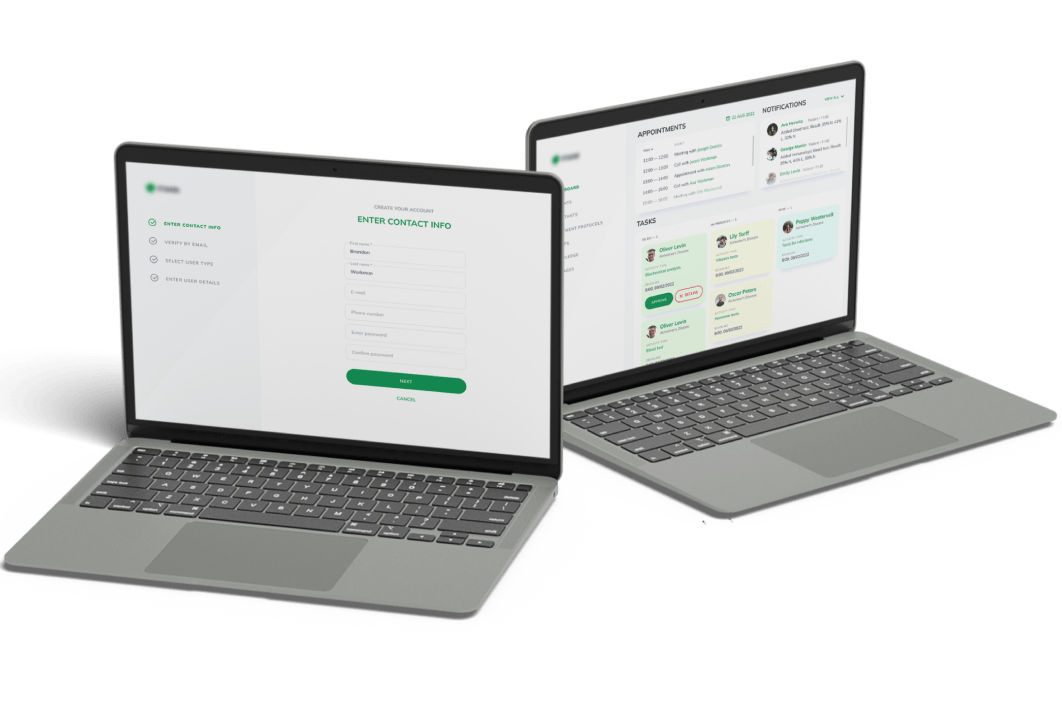 Solution overview
The platform is a patient-centric telehealth solution focused on patients with chronic diseases. The core idea of the platform is to bring healthcare professionals and patients together. It enables patients to access information about different treatments for their chronic diseases, find appropriate health practitioners, and connect with them for treatment.
At the request of our client, we created a clickable prototype of the platform. There are several modules, each of which has its own flow – patient, patient's caregiver, health practitioner, and method specialist. Let's take a look at the features of each module.
Patient module
Register and create a profile
Manage personal information (name, location, contact information; gender, date of birth, physical parameters such as height, weight, etc.; medical information – blood type, allergies, etc.)
Manage chronic disease information (select a disease from the list and provide the details – when it started, first diagnosis, symptoms)
Fill out HIPAA compliant health questionnaire (general information, medical history, family history, medication history, social history, and stress assessment form)
Upload test results and view changes in specific indicators in charts created by the platform
View the list of suitable health practitioners who specialize in treating certain diseases, as well as their profiles with detailed information
Connect with a health practitioner
View prescriptions (including the dosage of each medication) and treatment plans for each day
Manage updates and notifications (users can receive updates via WhatsApp, SMS, and email)
Manage subscriptions (view subscription plans and details, subscribe to a selected plan, renew or cancel subscription)
Communicate with other users in individual and group chats
Health practitioner module
Register and create a profile
Manage personal data information
Receive patient's request, view patient's profile and data – disease, symptoms, medical history, etc.
Accept the patient's treatment request
Create and manage treatment protocol (prescribe medications, tests, and procedures, access patient's virtual card, etc.)
View the list of all patients with their health status, upcoming tests, etc.
Address an assistant to track whether patients are adhering to prescribed treatment
Patient's caregiver module
Review the patient's profile, medical records, and treatment protocols
Report on the patient's compliance with the treatment protocol and prescriptions
Contact health practitioners
Method specialist module
Methods specialists act as medical experts, their main task is to provide access to information to other users
Share trusted and reliable content (articles, research, etc.) for patients, their caregivers, and health professionals
Participate in group chats
Consult health professionals
Third-party integrations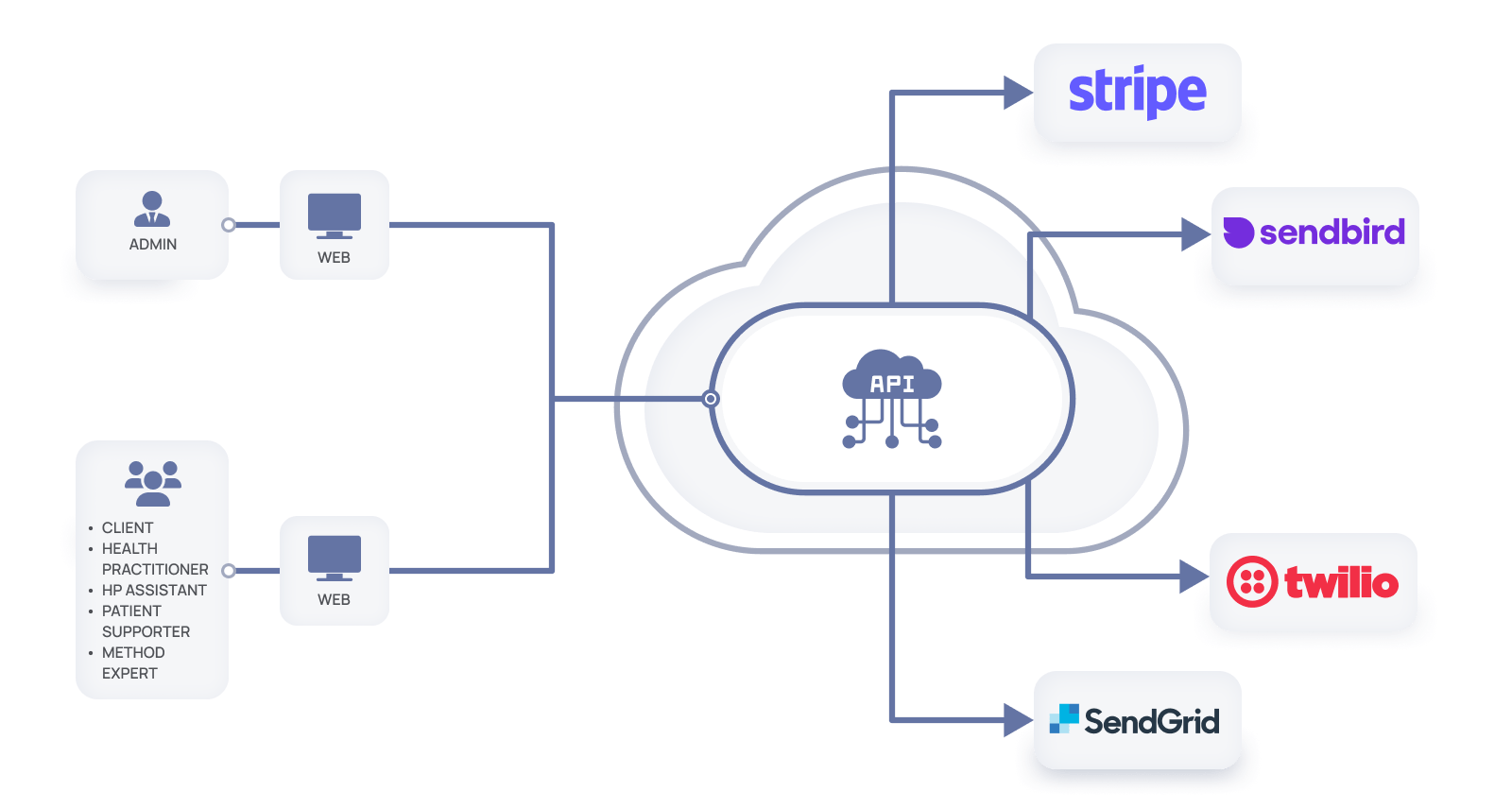 SendGrid is a cloud-based customer communication platform for transactional and marketing email.
Stripe primarily offers payment processing software and application programming interfaces (APIs) for e-commerce websites and mobile applications.
Twilio allows software developers to programmatically make and receive phone calls, send and receive text messages, perform other communication functions using its web service APIs, and also notify users via SMS and WhatsApp.
SendBird is the chat API for user-to-user messaging on mobile apps and websites. SendBird is fully HIPAA-compliant, which means that healthcare providers can safely send protected health information.
Project approach
During the extensive discovery phase that our team conducted, we performed thorough research, helped our client define a clear vision and elaborate the concept, and gathered actionable insights about the platform's target audience needs, and constraints. We also considered a suitable monetization model. As a result of the discovery phase, we delivered the following artifacts:
WBS with the estimation

Vision and Scope document

Software Architecture document

Clickable prototype
With these artifacts, our client is ready to raise investment.
Technical solution highlights
This is the architecture diagram of the future solution explaining how it's organized and works.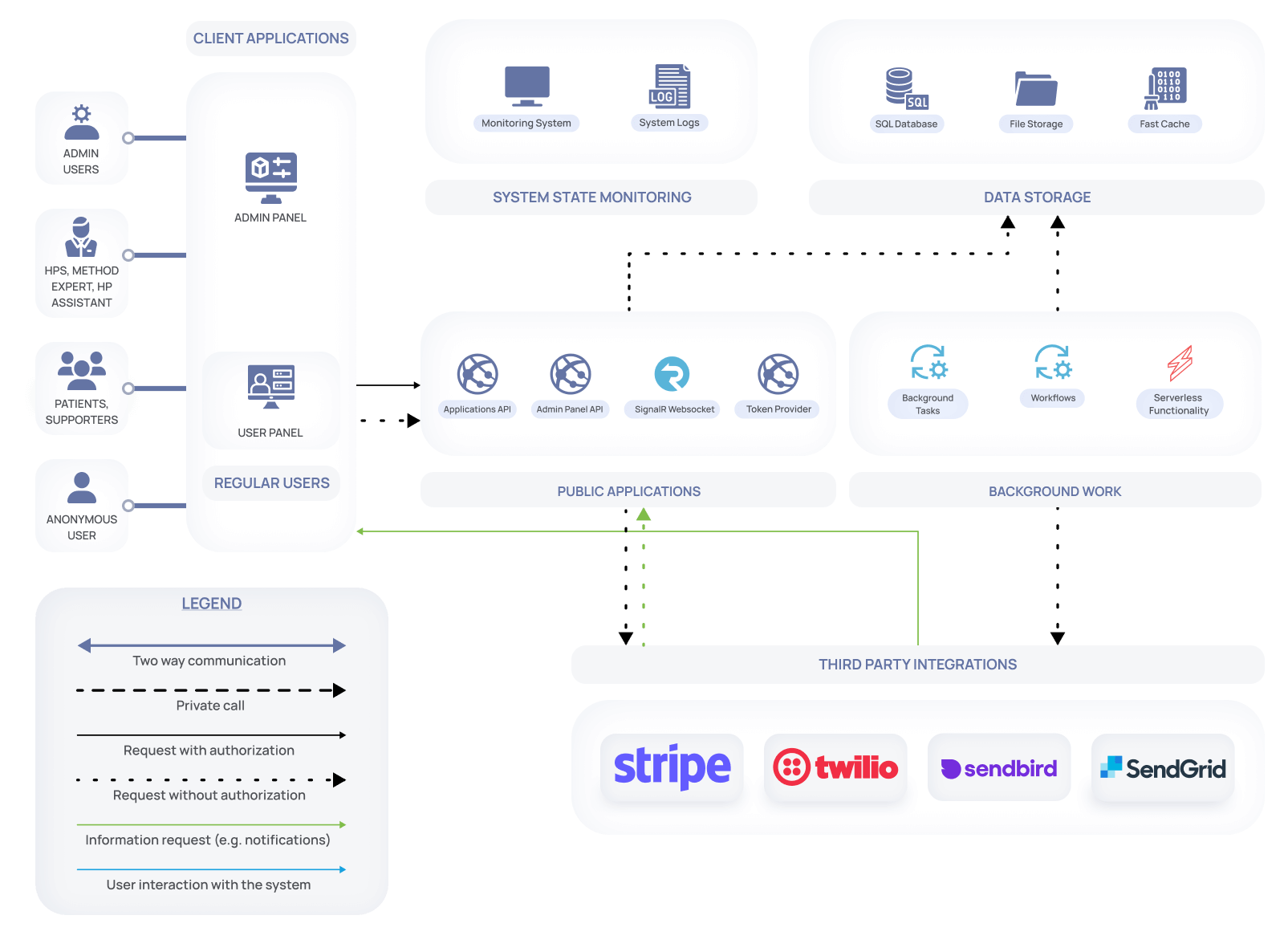 Results & future plans
Itexus specialists conducted a comprehensive discovery phase that helped our client clarify its concept and vision and develop a feasible plan. As a result of the discovery phase, the client received a complete set of documents (WBS, vision and scope, software architecture document, and others) and a clickable prototype. With these deliverables, our client is going to raise investments to move into the development phase with the Itexus team.
Have an idea for a telehealth solution? Let's build it! Contact us to find out how we can help.
Contact Form
Drop us a line and we'll get back to you shortly.
For Quick Inquiries
Offices
Poland
Żurawia 6/12/lok 766, 00-503 Warszawa, Poland