Since the origination of the FinTech sphere, there have been several startups disrupting it more than others. One such unicorn company is Plaid which managed to grow to a $13B company in less than 10 years. Only in 2013, the founders raised their first bucks through Techcrunch to make banking data developmentally friendly, and in 2021 they already have head offices in the USA, Canada, and the UK employing around 1000 people. What is the novelty Plaid brought to the modern FinTech world that let it soar so fast in such a short time? And, what's even more important, how to integrate Plaid into your solution we would discuss in this read.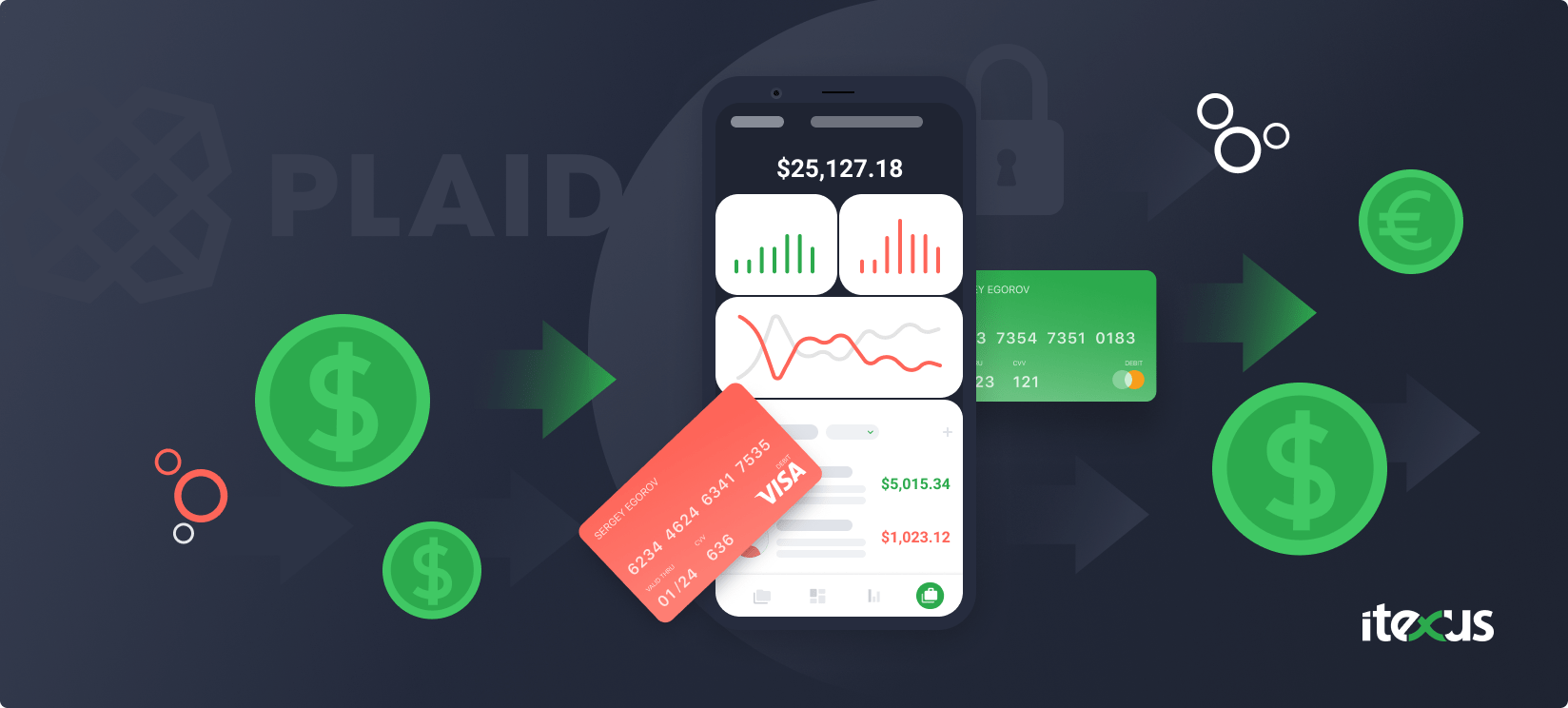 To understand why Plaid is dominating the FinTech market nowadays we have to bear in mind the banking systems of the US, the country of startups and crowdfunding. There is no unified banking system in America and that's why the API developed by Plaid and offered for FinTech startups and financial institutions as the intermediary was warmly welcomed by the IT world. Many of the legacy banking systems turned out to be quite forward-thinking and made agreements with Plaid to provide the customers' data and thus increase the speed of transactions and other operations. Plaid, in its turn, offers this data in the encrypted format to third parties, FinTech solutions like Mint, Betterment, Stripe, and others without storing it on its side. 
Plaid API could be used for accounting, investment, automated taxing, personal finance management apps, etc. Right now Plaid has agreements with the majority of leading US banks such as Capital One, Bank of America, Chase, and others. The UK market in its turn was invaded by Plaid through the existing Open-banking API and brought innovation, increased revenue, personalized offers, and better customer insight.
One more benefit of the integration of Plaid into such payment gateways like Stripe is that it not only works with credit and debit cards but with Automated Clearing House (ACH) as well.
What is Plaid?
Plaid Safety Levels
Plaid is well-known to have the best of its class encryption protocols: Advanced Encryption Standard (AES 256) and Transport Security Layer (TSL). In addition, according to Plaid's trust and safety regulations, it uses multi-factor authentication in case a financial institution doesn't provide it. To set more eyes on its security, Plaid runs a bug bounty program. Moreover, for higher transparency of data exchange, Plaid allows users to control which companies to share their personal information with.
Right now Plaid connects more than 11000 financial institutions around the world with any FinTech startups eager to hop on board.
Plaid FinTech Products
Over the time of Plaid's presence in the FinTech market, it managed to create products of its own. Some products came with the startups Plaid bought and integrated into its ecosystem, and some were created by Plaid developers. Anyway, these products are worth considering integration to save you much time and money.
Transactions
Plaid shows all the transaction updates from the connected accounts in real time and categorizes expenses. With additional integrations, it could visualize the spending on the map.
Authorization
This option provides a smooth and instant connection to the bank account by authenticating the account or/and routing numbers.
Balance
Plaid shows the real-time balance of users' accounts which is important in case of money transfer from one account to another.
Identity
Using the bank data Plaid can verify the identity of the account holder
Investments
Plaid understands users' holdings, balances, and transactions that could affect the holdings and investments
Assets
This product is favored by lending institutions because it facilitates the efforts in the stage of loan origination. Assets provides a holistic view of the account holder's financial situation for the lending institutions or other financial facilities to decide on the loan size if any.
Liabilities
Plaid shows real-time loan data and analyzes payment terms, timing, and balances.
Any questions? Drop us a line.
Costs of Plaid Services
Plaid is considered to be freemium software but it mostly concerns the usage of Plaid API to connect the service to your solution. With the free plan, developers can connect around 100 bank accounts to be able to test the sample data. If they are content with the outcome, they can move along to the next plan which lets the solution try the service with real data. The second plan can be characterized as a pay-as-you-go option. It gives access to some of Plaid's products that come with a one-time fee like Auth or pay-per-request, such as Balance. It means that each time the account is checked there is a fee for that. Noteworthy is that the pricing policy of Plaid lets the company get more revenue with the growth of the solution connected to the service. For the companies with a whopping turnover, some additional discounts could be applied but to make things clear it's better to discuss your case with Plaid's Sales team.
To be able to enjoy the full range of Plaids' products the company has to upgrade to the subscription plan. The minimum subscription price is $500 a month but based on the company volume the actual costs could vary.
Plaid Use Cases
Plaid is generally very easy to integrate due to its clear and powerful API, that's why we would like to stress out our Plaid FinTech solution development expertise and highlight the fields which benefit the most from Plaid's technology.
1. Personal Finances
We have developed a money-saving and personal finance assistant app for a California-based startup. Plaid's Auth and Transaction products were used. With Plaid's technology enabling expense categorization we managed to build an app highlighting the user's proportion of 'good' and 'bad' spending habits. Moreover, the app has an advisory functionality on how to reinforce good spending (going to the gym, buying fruit and vegetables, etc.) and decrease bad one (buying junk food, alcohol, smoking, etc). The user could also set the limit of money they want to spend on bad habits, and the app can even fine a penalty if the limits are broken.
2. Banking
Plaid was integrated into one of the solutions created by us – a mobile banking app for migrants coming to the USA. The goal of the app is to facilitate money transactions such as financial aid for the families of migrants, microloans, and early salary payments. Immigrants during the first years working and living in the states don't have access to credit services in American banks due to low credit scores or no credit history at all. The benefit of Plaid integration was the provided affordability of ACH payments in addition to the basic Plaid functionality embedded. Being skilled in FinTech development we managed to make the solution compliant with all needed regulatory standards: AML, CFT, PCI DSS, and our Design team did a great job by making the app user-friendly.
3. E-commerce
Right now our specialists are developing an e-commerce solution for a US-based client with Plaid integration. This is an e-commerce platform with a mobile app enabling users to buy products in installments. We are connecting several Plaid products: Balance and Transactions are among them. Right now we are at the stage of using the system and testing it in the sandbox. Plaid's data about users' transactions is crucial to let the app decide whether the user is creditworthy or not.
4. Lending
For our US-based client, we have developed a Plaid integrated digital lending platform with an app (both iOS and Android). The platform provides a fully automated lending process, starting from loan origination, online application, credit score, KYC, payments, underwriting, reporting, and bad deal management. This became possible with the AI-driven nature of the platform, specifically AI analytics and credit score generation. In addition to standard Plaid products, this solution also features Assets Plaid integration which lets the system instantly provide a valid credit score of the user, based on their balance and transactions, and overall spending behavior. We have done the discovery phase for the project and were chosen to continue the development due to our vast expertise in FinTech solution development.
5. Investment
A Canadian startup contacted us to help with the discovery phase of the solution – an investment app for retirees in Canada and the USA. Our business analytics, developers, and designers came up with an MVP where they suggested connecting to Plaid's Investment. We advocated for this product as Plaid covers an expansive number of financial institutions and is compatible with numerous investment account types, starting from retirement and brokerage accounts to HSAs and 529s.
Plaid-Based Fintech Solutions: Case Studies
As a full-cycle fintech software development agency, we work with multiple third-parties services, including Plaid. Check out a couple of our solutions integrated with Plaid.
Online B2B Invoicing & Billing Platform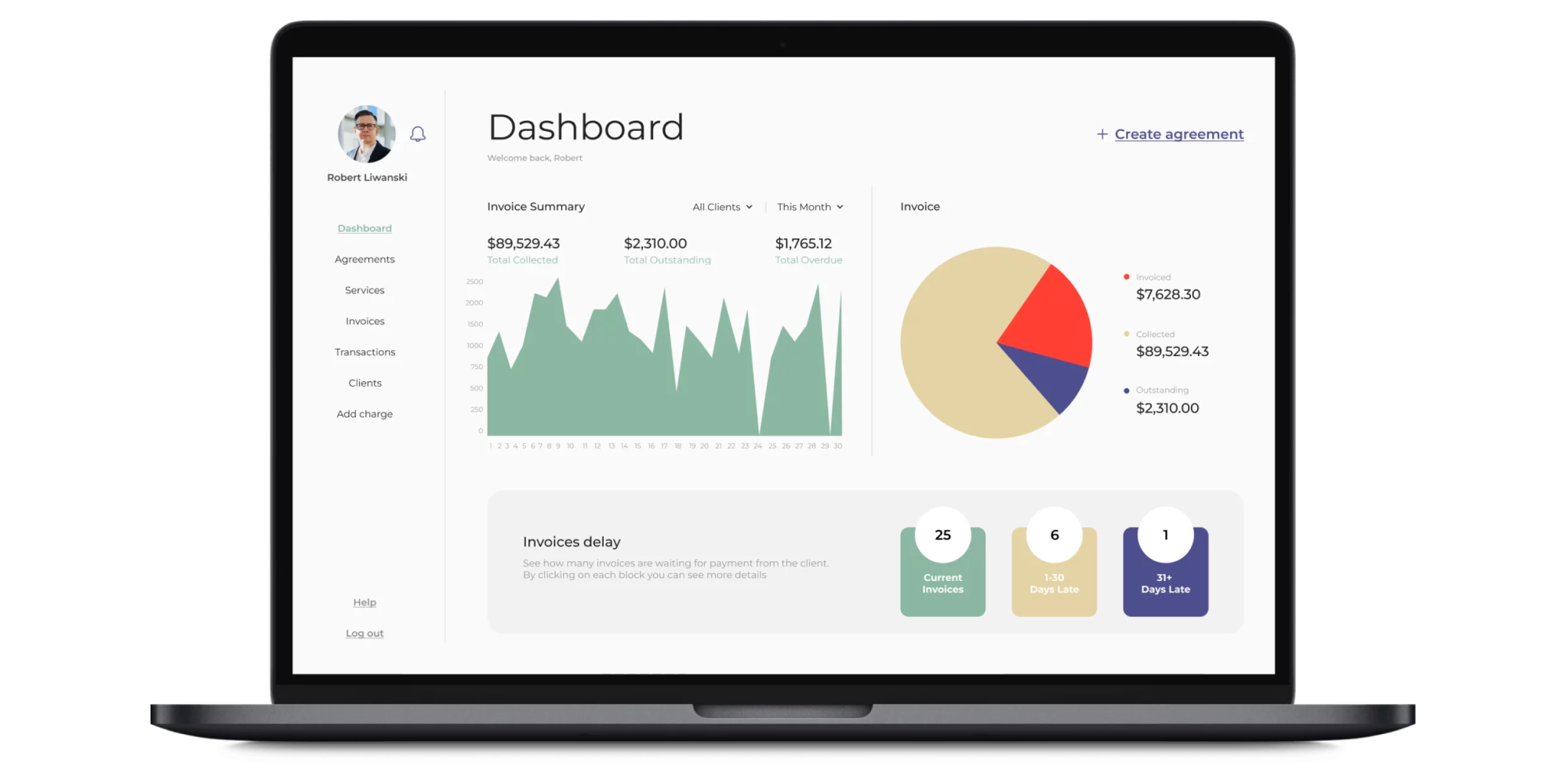 Our client had to constantly deal with issuing and sending invoices to customers using invoicing software. After trying several off-the-shelf invoicing platforms, he came up with the idea of developing his own solution. We developed an autonomous invoicing and billing web platform that enables businesses to issue and send invoices and receive timely payments, eliminating B2B payment errors. It's integrated with many third-party services such as Plaid, Dwolla, HelpCrunch, and others.
To learn more about the project, read the case study.
Online Lending Platform for Small Businesses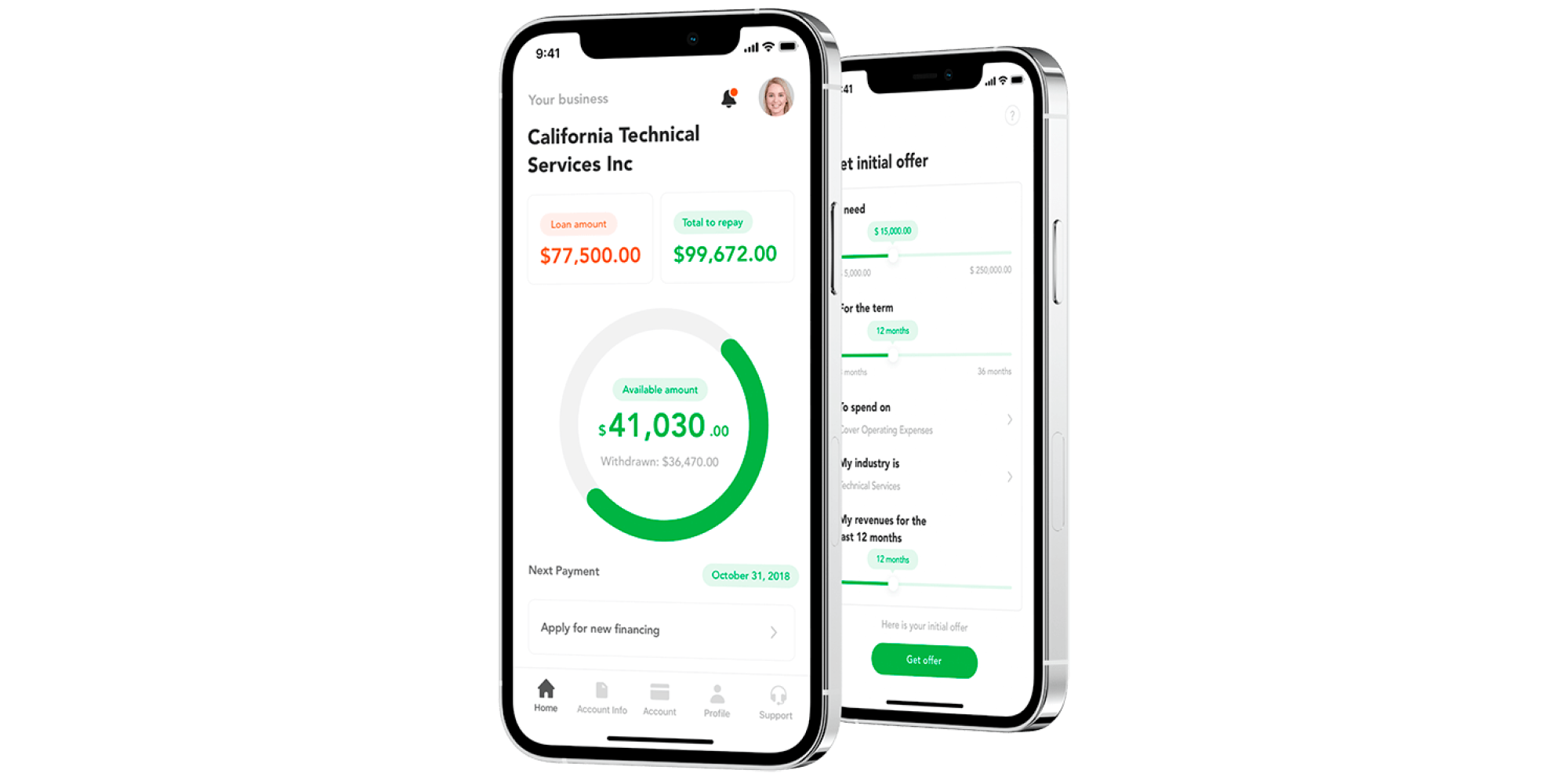 A FinTech startup approached us to launch a fully digital, online loan platform with a corresponding mobile app. We developed a solution that fully automates traditional loan business, lowers operational costs for capital providers, and streamlines the whole loan lifecycle for borrowers. It's integrated with Plaid, PayPal, Mbanq, DocuSign, Jumio, and other services.
To learn more about the project, read the case study.
To Sum Up
Nowadays, Plaid is a pioneer in the banking and FinTech spheres seamlessly connecting financial institutions all around the world with FinTech solutions. In addition to acting as a financial data aggregator as it was designed around 10 years ago, it has grown into a product company, offering a variety of services and solutions to customers.
Plaid integrations advocate for faster innovation as you don't have to spend additional time and money writing the needed lines of code from scratch. Also, it brings increased revenue to the company or startup, due to the improvement of user experience. I guess everyone would agree that instant transactions and connections to bank accounts mean a lot in our fast-developing world. Plaid also helps companies get detailed customer insights allowing them to provide relevant patterns and trends. Based on refined customer analytics, Plaid enables companies to create personalized offers increasing customer engagement with the financial products of the company. All this should leave no doubt to you whether to connect to Plaid or not.
Moreover, if you seek a trustworthy partner in cost-effective solution development, mind the one creating this read for you. Our expertise speaks better than words and you can easily prove it by clicking here and getting in contact with our team.
By Itexus Team